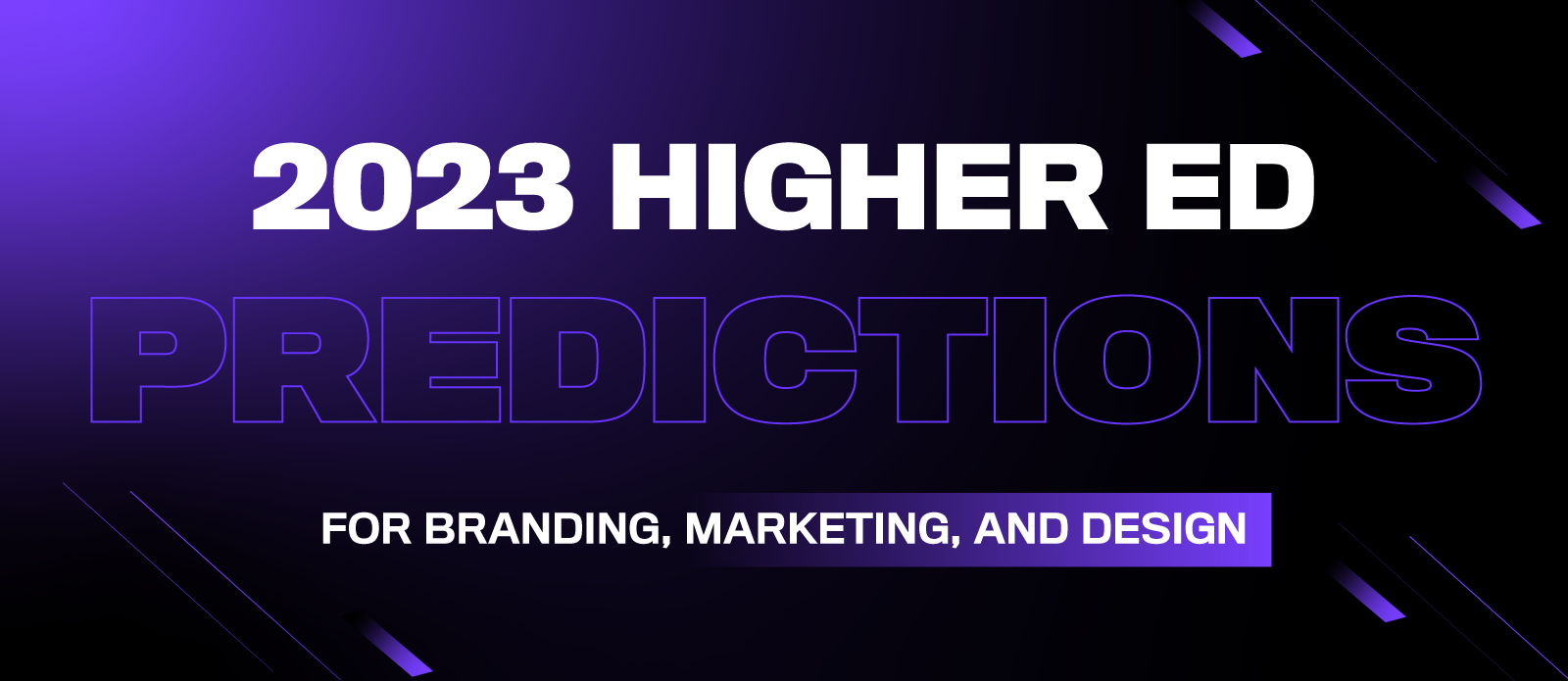 If you're like us, you're probably a bit tired of reading roundups of 2022, so instead, we put together our predictions for what we think will happen in higher education in 2023!
(If you're interested in the top stories from 2022, though, we put together a list.)
LISTEN TO THE DISCUSSION


DESIGN
Design is constantly evolving, and it can be difficult to predict exactly what the future holds. As leaders in the higher ed space, here are our predictions about what we might see in the world of design advancements in 2023:
Human-Centered Design

(HCD) will become a focus in order to mimic how people are actually using the web, particularly for search. This will lead to a need for more database structuring, tagging, and cleanup.
More institutions will embrace

Web Accessibility

to promote Diversity, Equity & Inclusion (DEI). WCAG 3 is coming within the next few years and will look to address things like emerging tech (AR/VR), voice assistance, cognitive accessibility, and diverse audiences.
The use of generative AI in the design process will increase for things like placeholder copy on a design project, but designers don't need to worry about their jobs (yet!)
BRANDING
Branding is a key element of any successful institution and it's important to understand the latest trends in order to create and maintain a strong brand identity. Here are our branding predictions that will help you create an effective brand:
More institutions may move toward "Blandification". This trend has moved into higher education with some university rebranding to essentially get rid of their historic distinctive assets. If more and more universities jump on this "blanding" trend, they may find it harder to stand out within a crowded marketplace.
Mass adoption of "virtual classrooms" via virtual reality (VR) and augmented reality (AR) will remain years away. Despite the hype, no high-profile colleges and universities will be making the jump into the metaverse in 2023. Meta continues to dump large amounts of cash building the Metaverse, but consumer adoption is slow.
MARKETING
What works in marketing today may not be effective tomorrow. To stay ahead of the curve and reach potential customers effectively, it's important to anticipate changes in the landscape. These are the marketing trends and developments that you need to know for 2023:
Institutions will embrace

DEI

to attract a more diverse student body, create a more welcoming campus, and enrich the learning experience for everyone.
Twitter will remain the go-to social platform for micro-blogging, while alternatives such as

Mastodon

and

Post

will continue to grow, but will remain niche online communities.
UGC will continue to be one of the most effective tools for brands. Colleges can work with influencers to create sponsored content that highlights the unique aspects of their campus and programs. This can be an effective way for colleges to connect with potential students and showcase what makes their schools unique.
Snackable, short-form videos will continue to dominate nearly every social platform. Colleges can create snackable videos that highlight their campus, student life, and academic programs and share them on social media, which can help increase awareness of the college and engage potential students.
In order to maximize ROI, marketers will shift spending to local. With geo-targeting, colleges can tailor their marketing efforts to the specific needs and interests of potential students in that area, which can make their message more relevant and appealing. Local marketing can also help colleges to build relationships with community organizations and businesses, which can be valuable for recruiting students and providing them with opportunities for internships and more.
Check out our conversation where we discuss our predictions in detail...
---