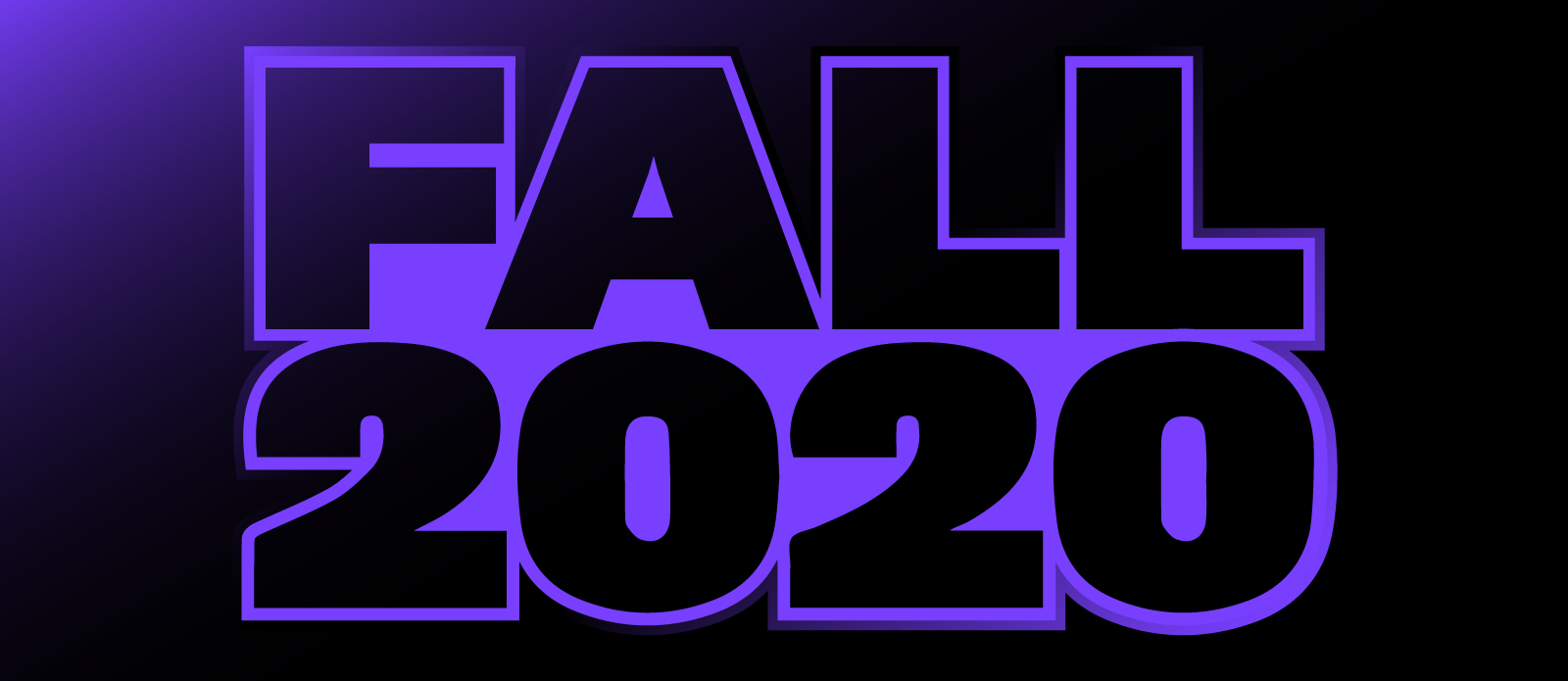 There is much speculation about what the fall semester is going to look like after the summer break. Schools around the nation are analyzing simulated models, bringing in 3rd party consultants, and working tirelessly to put together a comprehensive roadmap that is safe for students, faculty, staff, and their families.

Below is a list of the top 101 universities according to the U.S. News Report's 2019 rankings, and what we know (as of June 22nd) about their plans for returning to campus for the Fall 2020 semester. Additionally, we've curated a list of links to the latest announcement or COVID-19 portal from every school mentioned on this list.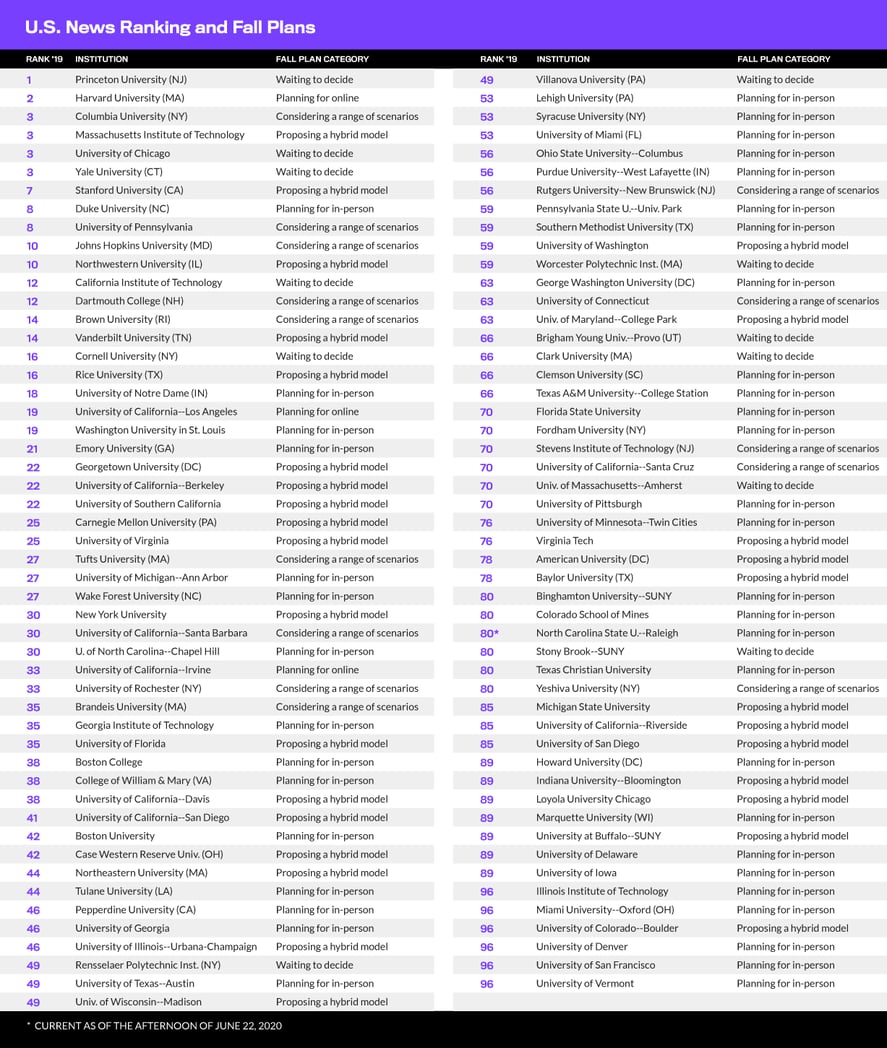 How Schools Plan to Return to Campus
Universities have put together tasks forces and are planning various approaches for reopening in the fall. To get a complete look at each institution's plans for reopening campus, here are links to their latest announcements (as of June 24th, 2020) or their school-wide Coronavirus portal.


Planning for Online (3%)
While the safest option for everyone involved in the higher education ecosystem (students, faculty, staff, vendors, etc.) it is the most extreme decision. While this may not please students or their parents, many of whom are looking for tuition refunds, it is by far the safest decision for the time in which we're living.


2.) Harvard University (MA)
19.) University of California--Los Angeles
33.) University of California--Irvine
Proposing a Hybrid Model (30%)
Transitioning online has impacted the student's mental health. A hybrid model attempts to normalize school in the fall by allowing some students to return to campus (e.g., students who require university resources such as labs), while students who are better able to complete their degree online continue using distance learning. For example, MIT's plan which includes a distinct, 4-tier hierarchy of people who would be allowed on campus:


Research staff and faculty

Graduate students whose research generally depends on lab access

Undergraduates who rely on campus resources for their work

Administrative and other non-research staff, many of whom can work effectively online
3.) Massachusetts Institute of Technology
7.) Stanford University (CA)
10.) Northwestern University (IL)
14.) Vanderbilt University (TN)
16.) Rice University (TX)
22.) Georgetown University (DC)
22.) University of California--Berkeley
22.) University of Southern California
25.) Carnegie Mellon University (PA)
25.) University of Virginia
30.) New York University
35.) University of Florida
38.) University of California--Davis
41.) University of California--San Diego
42.) Case Western Reserve University (OH)
44.) Northeastern University (MA)
46.) University of Illinois--Urbana-Champaign
49.) Univ. of Wisconsin--Madison
59.) University of Washington
63.) Univ. of Maryland--College Park
76.) Virginia Tech
78.) American University (DC)
78.) Baylor University (TX)
85.) Michigan State University
85.) University of California--Riverside
85.) University of San Diego
88.) Indiana University--Bloomington
88.) Loyola University Chicago
88.) University at Buffalo--SUNY
96.) University of Colorado--Boulder


Planning for In-Person (41%)
Surprisingly the largest group of schools are planning to return to campus in the fall. One big question that remains unanswered is: why do we need to return to campus? Leaders are claiming everything from student's "overwhelmingly" want to return to campus, to that it's best for managing revenue losses.

While the obvious concern with this model is the health and safety of students, faculty, staff, and vendors required to maintain the university ecosystem, there are other less obvious concerns that add risk. What are they?

Does the school have enough housing to give every student a single room? Are students willing to "play it safe," when they return? It's unlikely. Are classrooms big enough to allow for social distancing? Are healthcare services equipped to effectively perform testing? Are there school-wide mandates in place that require masks?

Outfitting campus to meet state organization guidelines before the fall is a herculean task. While we all hope the situation would return to "normal," not everyone is optimistic.
8.) Duke University (NC)
18.) University of Notre Dame (IN)
19.) Washington University in St. Louis
21.) Emory University (GA) - Watch their latest Town Hall (06.26.2020)
27.) University of Michigan--Ann Arbor
27.) Wake Forest University (NC)
30.) U. of North Carolina--Chapel Hill
35.) Georgia Institute of Technology
38.) Boston College
38.) College of William & Mary (VA)
42.) Boston University
44.) Tulane University (LA)
46.) Pepperdine University (CA)
46.) University of Georgia
49.) University of Texas--Austin
53.) Lehigh University (PA)
53.) Syracuse University (NY)
53.) University of Miami (FL)
56.) Ohio State University--Columbus
56.) Purdue University--West Lafayette (IN)
59.) Pennsylvania State U.--Univ. Park
59.) Southern Methodist University (TX)
63.) George Washington University (DC)
66.) Clemson University (SC)
66.) Texas A&M University--College Station
70.) Florida State University
70.) Fordham University (NY)
70.) University of Pittsburgh
76.) University of Minnesota--Twin Cities
80.) Binghamton University--SUNY
80.) Colorado School of Mines
80.) North Carolina State U.--Raleigh
80.) Texas Christian University
88.) Howard University (DC)
88.) Marquette University (WI)
88.) University of Delaware
88.) University of Iowa
96.) Illinois Institute of Technology
96.) Miami University--Oxford (OH)
96.) University of Denver
96.) University of San Francisco
96.) University of Vermont
Considering a Range of Scenarios (14%)
Deciding how to resume school in the fall is a massive undertaking. University leaders and staff have been researching and planning what the fall will look like since March, and the future is still hazy at best. Like any strong emergency action plan, it's best to research all of your options and have contingencies in place. Although students, faculty, and staff are anxiously waiting on news from their school, knowing your leadership team is vetting every possible solution, weighing the pros and cons, and consulting new research builds confidence.
3.) Columbia University (NY)
8.) University of Pennsylvania
10.) Johns Hopkins University (MD)
12.) Dartmouth College (NH)
14.) Brown University (RI)
27.) Tufts University (MA)
30.) University of California--Santa Barbara
33.) University of Rochester (NY)
35.) Brandeis University (MA)
56.) Rutgers University--New Brunswick (NJ)
63.) University of Connecticut
70.) Stevens Institute of Technology (NJ)
70.) University of California--Santa Cruz
80.) Yeshiva University (NY)
Waiting to Decide (12%)
New information is released every day: updated recommendations from state and national authorities, research from public health organizations, and news from other institutions. With so much happening, schools are correctly taking their time before committing to sweeping changes that have huge impacts across the campus.


1.) Princeton University (NJ)
3.) University of Chicago
3.) Yale University (CT)
12.) California Institute of Technology
16.) Cornell University (NY)
49.) Rensselaer Polytechnic Inst. (NY)
49.) Villanova University (PA)
66.) Brigham Young Univ.--Provo (UT)
66.) Clark University (MA)
59.) Worcester Polytechnic Inst. (MA)
70.) Univ. of Massachusetts--Amherst*
80.) Stony Brook--SUNY
*UMass Boston is planning to be primarily online for the fall 2020 semester.
If there is one thing this list of announcements tells us, there is no clear consensus about what is best for universities, their staff, and their students. It's been 3.5 months since lockdown, and Coronavirus has caused - and will continue to cause for the foreseeable future - massive disruptions in higher education. The best thing we can do is listen to the science, follow the guidelines, and make decisions based on the health and safety of others.



---
Need help migrating fall courses online? Contact UN today.


This article was co-authored by Marisa Demers.