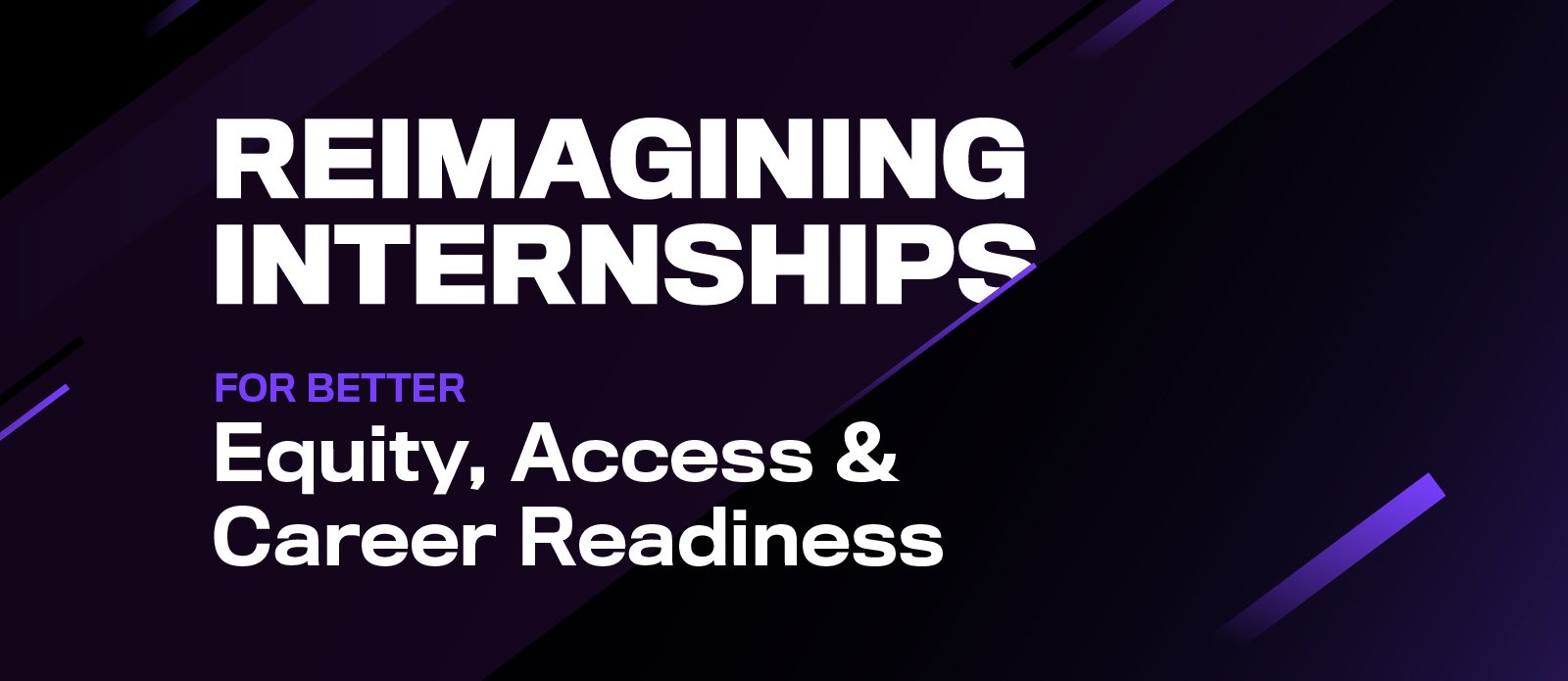 Every year, 4 million students graduate from college. If they are among the 27% who have a good job waiting for them immediately after they walk across the commencement stage, there is a good chance they had an internship.
Internships enable young adults to take the skills they acquired at school and apply them to real-world challenges. A stellar internship program will also help students develop new talents and create a network of contacts that can benefit them throughout their careers. Still, internships have kept the same stagnant model since they became popular in the 1980s. Even worse, nearly 40% of internships are unpaid, which prevents millions of talented and ambitious low-income college students from participating.
The pandemic and technology have changed the way we view and do work, and it is time internships transform, too. Given that a 2021 poll showed that 46% of parents would prefer not to send their children to a 4-year college, higher education needs to show its value now.
A select group of schools already has been reimagining career readiness. Could virtual internships, micro-internships, and co-operative education work for your college or university?
What is a Virtual Internship?
Virtual internships, also known as remote internships or online internships, enable students to work with any company–in the United States or abroad–from their dorm room or home. A virtual intern performs the same tasks as a peer working in an office, such as attending meetings, completing assignments, and receiving mentoring. By working remotely, a college student is more likely to have a flexible work schedule and save thousands of dollars in transportation and living expenses, especially if the company is in a major city. These two benefits can make a real difference for low-income and rural students.
The pandemic made virtual internships mainstream, and companies such as Google, Momentive (formerly SurveyMonkey), and Adobe have made them a permanent offering for college students. At UNINCORPORATED, we also believe that tomorrow's marketing and branding creatives need relevant and practical experience, which is why we recently launched a paid, flexible, and virtual internship program.
What is a Micro-Internship?
Micro-internships offer a focused, short-term, and project-driven experience that taps into college students' direct skills and knowledge. Assignments are wide-ranging but could include SWOT analyses, website audits, and database development.
The commitment could vary from hours to weeks, which is a stark difference from traditional internships that are an average of 18.3 weeks. The current model can be too long for both interns and employers. A college student who is using the experience to explore career options may decide quickly that they need to switch fields. Similarly, the employer has to invest a significant amount of time in identifying meaningful assignments for the intern.


Like what you're reading? Sign up for the Higher Education News Brief, and receive the top stories from across the landscape of Higher Education every Monday.

Micro-internships give students a quick glimpse of different careers, company cultures, and in-demand skills. We also like that students can do a micro-internship any time of the year, not just summer and winter breaks, and still keep their jobs.
What is a Co-operative Education?
Co-operative education, also known as a co-op, enables students to take a break from their studies and work full-time or part-time with an employer. Co-op students are paid and return to school with a better understanding of how their education applies to their careers, what other courses they should take, and what new skills they should develop. Some may work at a co-op and decide to pursue an entirely different career path. Knowing before graduation that they need to find other professional pursuits will save students valuable time and money.
Co-ops also offer students, especially first-generation college students, an easier transition to the job search process and workplace cultures where knowledge of soft skills, networking, and preferred communication styles is critical. For instance, Northeastern University manages a successful co-op program and requires students to take a class on ​​career exploration, resume writing, interviewing skills, and professional etiquette in the workplace. Virginia Tech also provides its co-op students with a career adviser who offers advice on workplace problems and challenges.
This article was co-authored by Marisa Demers.
---
Let's Work Together
UNINCORPORATED is a digital- and design-focused higher education agency that understands the unique challenges universities face with enrollment, recruitment, and brand awareness. We have a team of skilled marketers, designers, and web specialists ready to share your school's unique story.