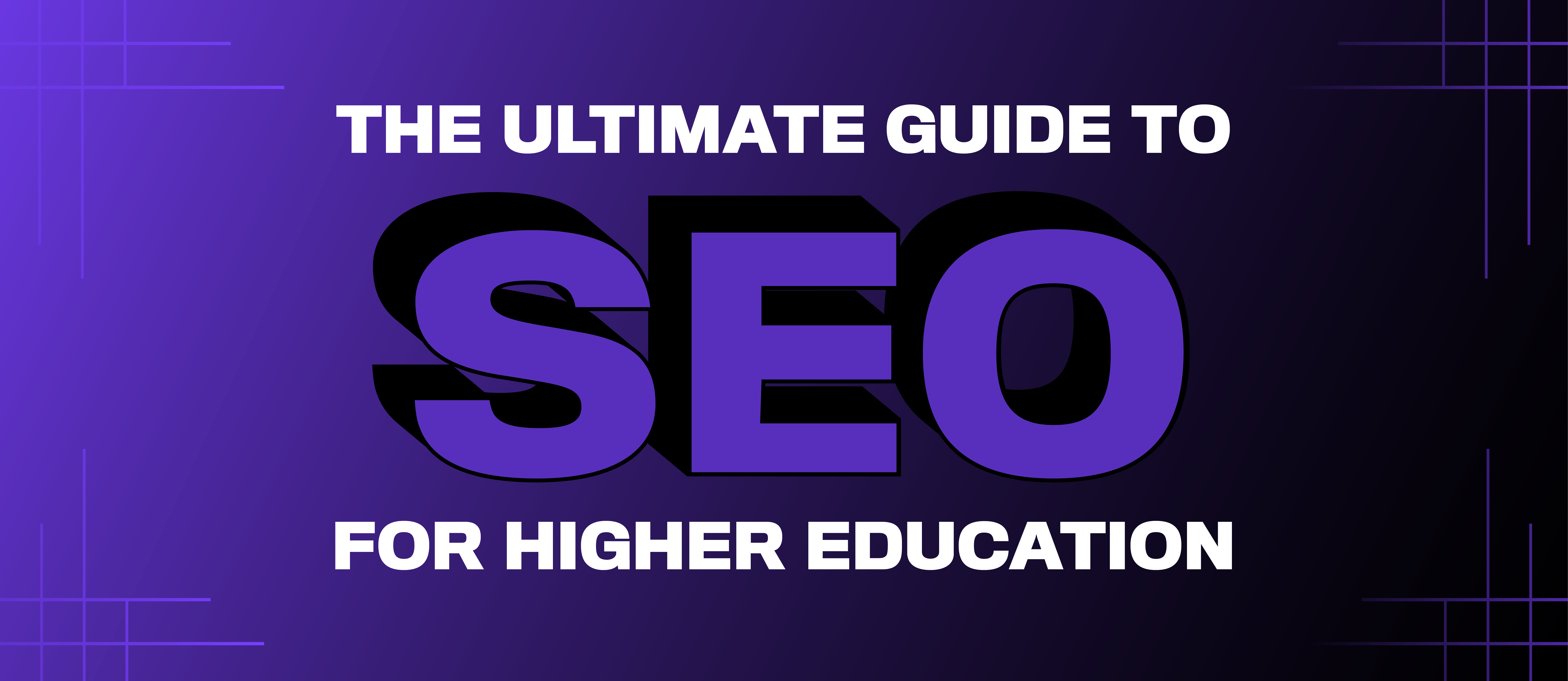 SEO is an important, but often misunderstood, aspect of marketing. Everyone within the higher education space has probably heard the term before, but they may not know how to actually improve the SEO of their site. To that end, we've created the ultimate guide to SEO for higher education.
What Is SEO and How Does It Work?
Search Engine Optimization (SEO for short) is the strategy and efforts you take to try and improve your website's placement in the search results of search engines such as Google and Bing (Google currently has an 80% market share). Note that when we're discussing SEO, we're talking about organic placements in search results, not paid placements, which are unrelated to SEO.
Search engines "crawl" websites to "rank" webpages, and then, using an algorithm, orders those webpages on search engine result pages (SERPs). Google's proprietary algorithm includes over 200 known factors and countless other factors that the company keeps secret.
To better understand how to rank your website's content higher in SERPs, you first need to understand how search works. When someone types "top engineering colleges" into Google, they're likely looking to read about/from the top engineering colleges. If you are an engineering college, you'll want people to see your website represented towards the top of those search results. For anyone to see search results that include your website, you need to rank above other websites that write about that same topic.
SEO is made up of many elements, and knowing how each one works is key to understanding why SEO is a crucial pillar of your marketing ecosystem. There's no guarantee of ever being able to rank highly for every search term you'd like, but if you follow the guidelines below, you'll be well on your way to improving your position in search results.

Why Is SEO Important?
"Improving a website's SEO" means increasing the chances that pages of the website will rank highly in search results. A webpage ranking highly in SERPs increases the number of people who see the site's content in search results. Being seen more frequently increases the odds of getting a larger number of users to click from search results to your website, and thus more opportunities to convert prospects into customers. Having good SEO provides your site with the visibility it needs to attract "customers", and at a much lower cost than running ads.
SEO-improvement efforts are quite budget-friendly compared to things like digital ad spending and those efforts can have an impressive return on investment (ROI). Making improvements to your website's SEO is a cost-effective tactic because it targets people that are actively searching for your particular services or offerings. Another benefit of SEO is that when you understand what users are looking for from you and your website, you can then implement those learnings across all types of marketing campaigns.
SEO also plays an important role in positioning your website as authoritative within your field. Someone may not have heard of your college or university before, but if they keep seeing your institution rank highly in search results, they're going to start viewing it as a trustworthy expert within whatever world you operate in.
What Are the Core Components of SEO?
Google has always been clear that content quality is critical for ranking success. Search algorithms are designed to surface the most relevant and useful results for users. Google weights your site based on what they now refer to as E-E-A-T, or experience, expertise, authoritativeness, and trustworthiness. To be clear though, Google says that E-E-A-T is used by their search raters to help evaluate the performance of their various search ranking systems, but it does not directly influence rankings. To improve your SEO, you'll want to look at the three types of SEO: on-page SEO, technical SEO, and off-page SEO. Each component directly relates to how Google processes and organizes websites to determine their ranking.
"On-page SEO" refers to the actual content on your website (articles, blog posts, etc.) Content is what builds relevance and allows your website to be found in SERPs. Writing comprehensive answers to common search queries is the core of content creation for SEO. But it's not enough to just have high-quality answers to common questions on your website. You also need to make sure that content is optimized with the proper <title> tags, meta descriptions, and URL formatting; that way, when your site shows up in search results, people will feel compelled to actually click through to your site.
"Technical SEO" encompasses issues that relate to your website's infrastructure, such as page load speed, sitemaps, and whether a website has an SSL (Secure Sockets Layer) certificate. These factors directly affect search engines' ability to crawl your site and properly index pages of your site in SERPs.
"Off-page SEO" is everything that happens away from your website. It's about a search engine's perception of your website's authority. This primarily occurs through backlinks, which is just a name for when a website links to content on your website. The goal is to get linked to a wide variety of unique, respected websites (domains), which can increase your own website's perceived authority in the eyes of search engines. Link acquisition is about quality and relevance, not quantity. Links from two .gov or .edu websites will almost always be more beneficial than getting linked to ten websites that search engines don't regard very highly.
How Can I Improve My Site's SEO?
The first thing to do to improve your website's SEO is to fix any technical SEO issues with your website. Some of the most common technical SEO problems include:
Slow Page-Load Speed / Poor Mobile Experience
When it comes to page load speed, use Lighthouse PageSpeed Insights to identify the current load speed of your website on desktop and on mobile. Then follow Lighthouse's recommendations for what changes you should make in order to get the site to a better page-load speed. Lighthouse will also let you know if the content on your website is rendering correctly on mobile and desktop.
No HTTPS Security
To convert your site to HTTPS, you need an SSL certificate from a Certificate Authority. Once you purchase and install your certificate, your site will then show as HTTPS to users, and Google.
The Site Isn't Indexed Correctly
Add your site to Google Search Console to see if there are errors that might prevent Google from understanding your site. You can also send Google a list of your most important URLs to let them know they should crawl and potentially index them.
No XML Sitemap
If your website doesn't have a sitemap, you'll need to create one. If you have a WordPress site, the Yoast SEO plugin can automatically generate an XML sitemap for you.
Messy URLs
Publishing platforms sometimes auto-generate strange URLs for new content. Messy URLs can hurt your trust and credibility with search engines. Clean up those messy URLs to make sure they're not too short or too long (between 50-60 characters is ideal), and that they include the focus keyphrase of that particular webpage.
Missing Alt Tags On Images
Adding alt tags to your images is one of the quickest and easiest technical SEO fixes you can make. Alt tags describe the content of images and are incredibly important for visitors who have difficulty with their sight. They're also useful for other users because if an image fails to render properly, the alt tag for the image will usually be displayed. Alt tags also reinforce the page's keyword by helping search engine crawlers understand the page.
Now that you've tackled some technical SEO issues, you'll now move on to improving your on-page SEO:
Focus Keyphrase
The most basic way to tell people that your website's content answers a user's question is in the language you use. Each page of your website should have a unique focus keyphrase, and that phrase should appear in the title, the sub-heads, and multiple times in the body of the text. For example, as a web design agency in Los Angeles, it is crucial to include the keyword "Web design agency in Los Angeles" in your SEO efforts to increase visibility and attract potential clients in the area. But make sure that you don't do "keyword stuffing". Google does not view sites positively when they overuse focus keyphrases. If Google detects that you're doing that, it can result in your entire site being demoted in SERPs.
Title Tags & Meta Descriptions
The title tag and meta description appear within the search engine result next to the URL. Title tags should be optimized to make people likely to click through to your website. A widely-accepted rule is for the title tag to have fewer than 60 characters, and some studies suggest that closer to 30 characters is what often results in a higher click-through rate. Pair your page titles with meta descriptions that give the user a clear idea that their question will be answered on that page.
Visual Assets
Using images, infographics, and videos gives you opportunities to improve your SEO. Many users say they often just visually scan search results instead of reading page titles, and with Google moving to put all types of search results on one page, that means that if you're not using images, you're missing out on potential traffic. Google is also starting to push visual search heavily through its Google Lens feature.
Lastly, and perhaps most importantly, you'll want to implement what we here at UNINCORPORATED refer to as a Content Marketing Supply Chain (CMSC). What we mean by that is creating regularly occurring new content from your existing offline materials. When turning your offline materials into blog content, you'll want to repurpose it in such a way as to answer commonly Googled questions about your product or season. You should also create new pages for several different popular topics, each optimized around a particular focus keyphrase that has a high Google search volume. Can't think of a topic that you should be writing about on your website? Check out our resource on planning a content marketing strategy.
We've created immense value for our higher ed clients through content publishing. For example, our client Herman Ostrow School of Dentistry of USC wanted to increase traffic to their website, so we implemented the Content Marketing Supply Chain as part of their SEO strategy. The result was traffic more than doubled within less than a year. You can read our full case study here.
How Does Social Media Content Affect SEO?
The majority of the elements that relate to your website's SEO potential occur on your website itself. While high-authority sites linking to your website could theoretically improve the SEO of your website, it's dwarfed by all of the SEO-related factors on your website itself. While driving people from your social media channels to your website may increase your traffic, that does not directly affect the SEO potential of your website.
That being said, it's still important to regularly post to social media platforms, such as YouTube. Why? Because more and more frequently, Google is integrating posts from sites like YouTube and Instagram on SERPs. That gives your website another chance to rank highly in SERPs, and for some search queries, it may be easier to rank highly in SERPs with a video than it would be to rank for it with text content about that same query. And while it won't result in a click from SERPs to your website, the user may end up clicking to your website from your YouTube video.
What to Check Before A New Website Launches
If you're in the process of reimaging your website, we have good news: That is the best time to begin your SEO efforts. Before your website is even built/launched, you'll want to do all of the following.
First off, map out a unique focus keyphrase for every page of your website. This may take a bit of time, but it'll be worth the effort when you see how much better your website's SEO will be compared to if you tried to optimize an existing website.
Next, you'll want to write every page's title and content around the focus keyphrase of that particular page. Use a site like Yoast to find out exactly how many times (and where) your focus keyphrase should appear on each particular page. Lastly, make sure that every URL on your website contains the focus keyphrase of that particular page.
How to Track Your SEO Efforts
When tracking your SEO-improvement efforts, there are multiple metrics you'll want to monitor. Those metrics include things like: your website's impressions in SERPs, the click-through rate from search results, the amount of organic traffic coming to your website from search, and ultimately, whether users from search are taking whatever action you consider to be the most important conversion metric on your website-whether that's lead generation form-fills or something else. Some of the tools that you can use to track those metrics include Google Search Console, Yoast, SEM Rush, and Moz.com.
When you're tracking these metrics, be sure to always use year-over-year comparisons to account for seasonality, and remember that SEO improvement is a long-term effort that can often take up to 6-months before you really see results.
The Future of SEO
All the way back in 2015, Google introduced the AI system RankBrain. RankBrain is a combination of an AI and machine learning algorithm that helps Google interpret search queries and provide relevant results based on user intent. When looking toward the future of SEO, it would be a fool's errand to make bold predictions, but we can, at least with some certainty, envision Artificial Intelligence (AI) taking on an even more critical role in understanding user intent.
There are also new forms of search. More people are using voice assistants like Siri, Alexa, and Google Assistant to perform searches every year. If voice-search assistants aren't able to understand your website then you'll miss out on getting in front of the people using those devices. The main way to make sure your site is "voice search friendly" is to make sure that your site is mobile-friendly. Voice searchers are often using mobile devices, so it's important that your site renders properly for them. One of the best ways to rank our website for voice searches is to target relevant questions. Use tools like Answer The Public to find some of the questions that get asked most frequently in your industry and make sure you have content on your website that is optimized around those questions.
Stay Focused on the Basics
The basics will remain the same no matter what changes we see to SEO in the coming years. Search algorithms want to surface the most relevant and useful results for users. To do that, they look to determine the expertise, authoritativeness, and trustworthiness of your site. If you stay focused on creating content that follows those guidelines, you'll make steady progress toward achieving the goal of improving your website's SEO.