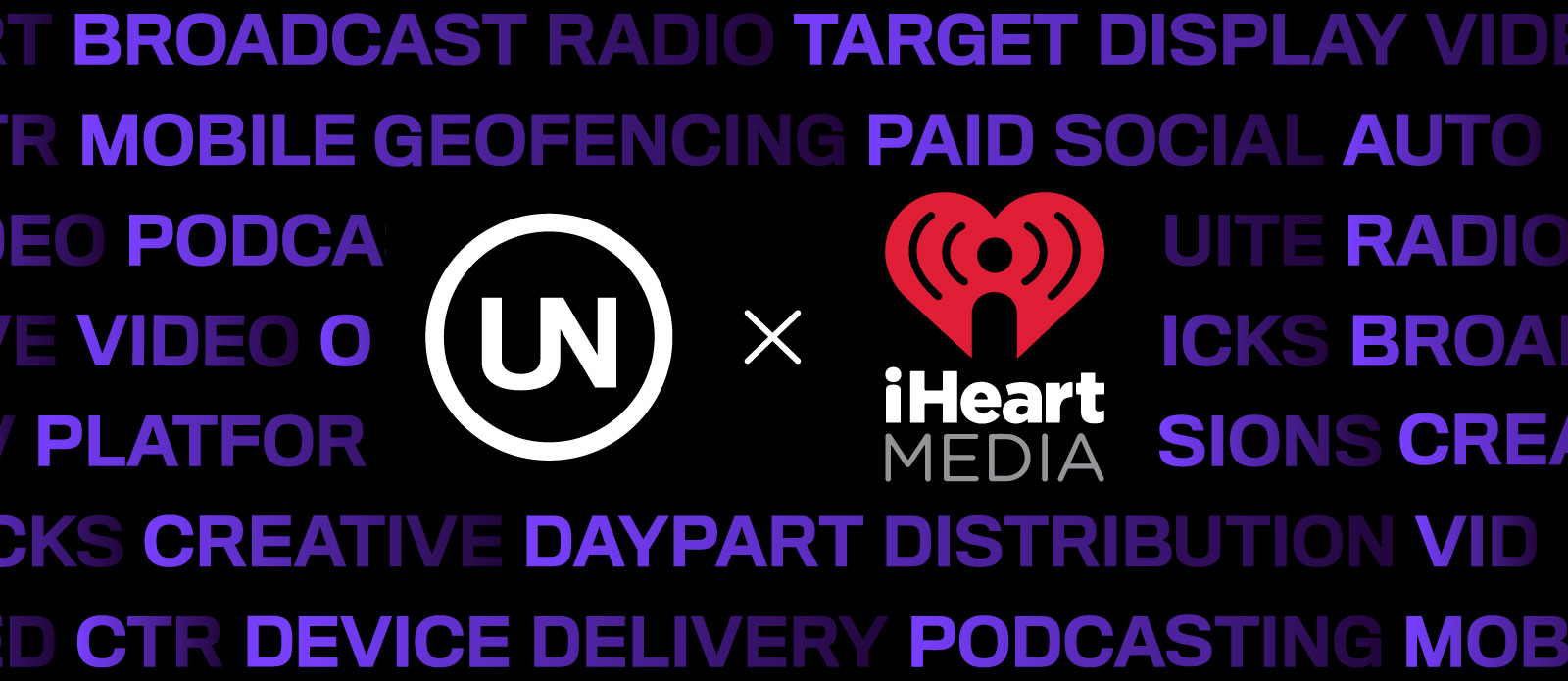 Big News: UNINCORPORATED has partnered with iHeart Media -
In today's higher education market, it has become increasingly difficult to cut through the noise and reach the ideal prospective student. More schools are competing for a smaller pool of prospects, which can make marketing and advertising efforts more expensive while garnering less-than-ideal results. With so many organizations operating a "set it and forget it" strategy, it's no wonder they don't see results.

That's why UNINCORPORATED is excited to announce that we have partnered with iHeart Media to elevate our media buying capabilities, specifically for university and college programs. Through this partnership, we are able to reach audiences all across the nation with premium audio, video, and display content. You can also read or watch our discussion with iHeart about this partnership.
Working with iHeart's Multi-Channel Demand-Side Platform (DSP) Buying & Technology Team, we create consistent messaging across critical touch points, including:
Broadcast Radio
Targeted Display
Paid Social
Podcasting
Mobile Geofencing
Video, OTT, and Connected TV
Automotive Suite
A key component of any media buying initiative is quality reporting and measurement of results. With iHeart Media, you'll get access to a custom, live dashboard where you can track all your KPIs, including:
Clicks
CTR
Conversions
Location
Creative
Device Delivery
Daypart Distribution
Social Platforms
Case Studies

A local State University hoped to drive applications and enrollment numbers, improve brand recognition and affinity, and enhance public opinion of the school. They requested a solution that would allow them to take a hands-off approach. So iHeart created a detailed digital marketing plan that would reach the University's ideal audience throughout every phase of their higher-ed research & decision-making process. Emphasis was placed on reaching the correct audience and building frequency amongst this group, thus improving affinity, recognition, and application rates. In addition to exponential changes in website traffic engagement, the campaign generated 8,462 leads from podcast audio alone.

===

After successfully growing their brand through radio and television advertising, a private college with a strong reputation for delivering high-quality education to busy adults wanted to experiment with new marketing channels, and asked iHeartMedia for recommendations on building a successful sound strategy. The brand's objectives were to increase brand awareness, increase registration or intent to seek information about the brand, and generate learnings that could be leveraged in future audio marketing efforts. iHeartMedia determined that the university was the perfect fit for podcast advertising. Selecting from the largest library of podcasts in the nation, iHeartMedia recommended several podcast titles that would best align with new potential students and worked to craft a message that would appeal to the loyal podcast audience. As a result, consumers exposed to the podcast advertising campaign reported a 56% greater intent to seek more information, a +35% increase in brand affinity, and a 23% increase in awareness that the university "ensures students reach full potential and earn a degree.


A Virginia community college wanted to generate awareness and interest among potential students so iHeart Media offered a three-pronged approach:
iHeart Audience Network streaming audio targeting an audience of high school students
A psychographic segmentation of the iHeart podcasting network to reach parents and young adults
Geo-targeted messaging on the iHeart Market Podcast Network to reach the audience located near the college.
The campaign resulted in 1,406 website visits from people who heard the audio ads. They also saw a surplus of traffic to the Programs, Come to Our School, and Paying For College pages of their website.

===

One Ohio online university wanted 1,000 new leads before their summer quarter for their advanced online degree for Masters of Behavior Analysis and Information Technology. With extensive research, iHeartMedia discovered that prospective MBA students often use Reddit to help determine whether to pursue a new degree. The design team created three motion graphic videos to use in a hyper-targeted Reddit campaign around job titles and conversations with people who would be a good fit. The two-month campaign resulted in over 1,200 new leads being generated.

===

After a few years of decreasing enrollment, a university needed to drastically increase awareness and drive attendance for an upcoming, in-person open house. iHeartMedia launched a robust, two-week campaign with 30-sec audio messages on three top Baltimore radio stations, and they visually reinforced the messaging with location-based Display and Retargeting in two priority markets. The campaign resulted in a 33% increase in website visits during the campaign along with the best open house turnout the college had seen in years.

===

By working with UNINCORPORATED, you'll reap the benefits of having a partner in iHeart Media to drive awareness, consideration, and conversion through a multi-platform advertising experience for universities of all sizes. With unparalleled first-party data and best-in-class support, UNINCORPORATED and iHeart Media can deliver your message wherever your audience lands on the marketing funnel.
Need help with your media buy? Get in touch with us today.