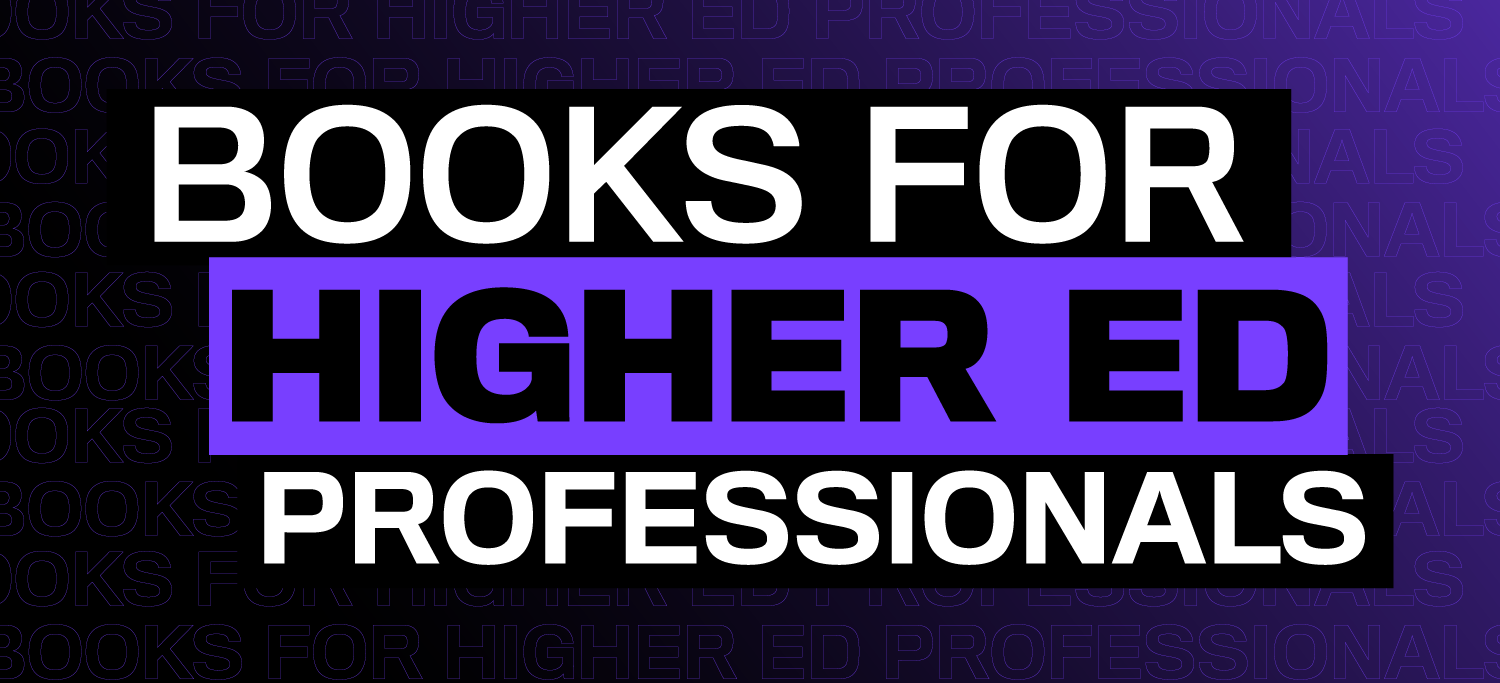 If you work in higher education, you are surrounded by the idea of learning all day, every day. But, you may find it difficult to prioritize your own learning and professional development. To help you get started, we've put together a list of books about the state and future of higher education.
Top 11 Books
Titles are listed in alphabetical order.

by Bryan Alexander
"The outlook for the future of colleges and universities is uncertain. Financial stresses, changing student populations, and rapidly developing technologies all pose significant challenges to the nation's colleges and universities. In Academia Next, futurist and higher education expert Bryan Alexander addresses these evolving trends to better understand higher education's next generation."
by Heather Staker and Michael B. Horn
"Blended is the practical field guide for implementing blended learning techniques in K-12 classrooms. A follow-up to the bestseller Disrupting Class by Clayton M. Christensen, Michael Horn, and Curtis Johnson, this hands-on guide expands upon the blended learning ideas presented in that book to provide practical implementation guidance for educators seeking to incorporate online learning with traditional classroom time. Readers will find a step-by-step framework upon which to build a more student-centered system, along with essential advice that provides the expertise necessary to build the next generation of K-12 learning environments. Leaders, teachers, and other stakeholders will gain valuable insight into the process of using online learning to the greatest benefit of students, while avoiding missteps and potential pitfalls."
Like what you're reading? Subscribe to the Higher Ed News Brief, and receive the industry's top news stories delivered straight to your inbox every Monday, Wednesday, and Friday.
by Bob Moesta and Michael B. Horn
"Addressing the college-choosing problem. The rankings, metrics, analytics, college visits, and advice that we use today to help us make these decisions are out of step with the progress individual students are trying to make. They don't give students and families the information and context they need to make a high-stakes decision about whether and where to get an education."
by Robert Zemsky, Susan Campbell Baldridge, and Susan Shaman
"In The College Stress Test, Robert Zemsky, Susan Shaman, and Susan Campbell Baldridge present readers with a full, frank, and informed discussion about college and university closures. Drawing on the massive institutional data set available from IPEDS (the Integrated Postsecondary Education Data System), they build a stress test for estimating the market viability of more than 2,800 undergraduate institutions. They examine four key variables―new student enrollments, net cash price, student retention, and major external funding―to gauge whether an institution is potentially at risk of considering closure or merging with another school. They also assess student body demographics to see which students are commonly served by institutions experiencing market stress. The book's appendix includes a powerful do-it-yourself tool that institutions can apply, using their own IPEDS data, to understand their level of risk."
by Clayton Christensen, Curtis W. Johnson, and Michael B. Horn
"In his long-awaited new book, Clayton M. Christensen and coauthors Michael B. Horn and Curtis W. Johnson take one of the most important issues of our time-education-and apply Christensen's now-famous theories of "disruptive" change using a wide range of real-life examples. Whether you're a school administrator, government official, business leader, parent, teacher, or entrepreneur, you'll discover surprising new ideas, outside-the-box strategies, and straight-A success stories."
by Michael M. Crow and William B. Dabars
"In The Fifth Wave, Michael M. Crow and William B. Dabars argue that colleges and universities need to be comprehensively redesigned in order to educate millions more qualified students while leveraging the complementarities between discovery and accessibility. Building on the themes of their prior collaboration, Designing the New American University, this book examines the historical development of American higher education―the first four waves―and describes the emerging standard of institutions that will transform the field. What must emerge in this Fifth Wave of universities, Crow and Dabars posit, are institutions that are responsive to the needs of students, focused on access, embedded in their regions, and committed to solving global problems."
by Derek Bok
"In recent decades, cognitive psychologists have cast new light on human development and given colleges new possibilities for helping students acquire skills and qualities that will enhance their lives and increase their contributions to society. In this landmark book, Derek Bok explores how colleges can reap the benefits of these discoveries and create a more robust undergraduate curriculum for the 21st century."
by Ryan Craig
"In A New U: Faster + Cheaper Alternatives to College, Ryan Craig documents the early days of a revolution that will transform—or make obsolete—many colleges and universities. Alternative routes to great first jobs that do not involve a bachelor's degree are sprouting up all over the place. Bootcamps, income-share programs, apprenticeships, and staffing models are attractive alternatives to great jobs in numerous growing sectors of the economy: coding, healthcare, sales, digital marketing, finance and accounting, insurance, and data analytics."
by Mary B. Marcy
"With costs rising, traditional college student populations shrinking, and pundits predicting that huge numbers of colleges will close in the next few decades, small colleges cannot afford to pretend that business-as-usual can sustain them. This book offers five emerging models for how small colleges can hope to survive and thrive in these very challenging times: Traditional; Integrative; Distinctive Program; Expansion, and Distributed. In addition to offering practical guidance for colleges trying to decide which model is for them, the book includes brief institutional profiles of colleges pursuing each model. The book also addresses the evolving role of consortia and partnerships as an avenue to provide additional innovative ways to manage cost and develop new opportunities and programs while maintaining fidelity to the mission and strategic vision."
by John Warner
"The coronavirus pandemic has laid bare what we already know: the current system is unsustainable. We have forgotten that education is infrastructure, and are paying a high price for this wrong turn thirty-plus years ago. In Sustainable. Resilient. Free., author and educator John Warner maps out a way forward, one by which our public colleges and universities are reoriented around enhancing the intellectual, social, and economic potentials of students while providing broad-based benefits to the community at large. As Warner explains, it's not even complicated. It's no more costly than the current system. We just have to choose to live the values we claim to hold dear."
by Steven Brint
"Crushing student debt, rapidly eroding state funding, faculty embroiled in speech controversies, a higher-education market disrupted by online competition―today's headlines suggest that universities' power to advance knowledge and shape American society is rapidly declining. But Steven Brint, a renowned analyst of academic institutions, has tracked numerous trends demonstrating their vitality. After a recent period that witnessed soaring student enrollment and ample research funding, universities, he argues, are in a better position than ever before."
Note: We may earn money from qualifying purchases as an Amazon Associate.
---