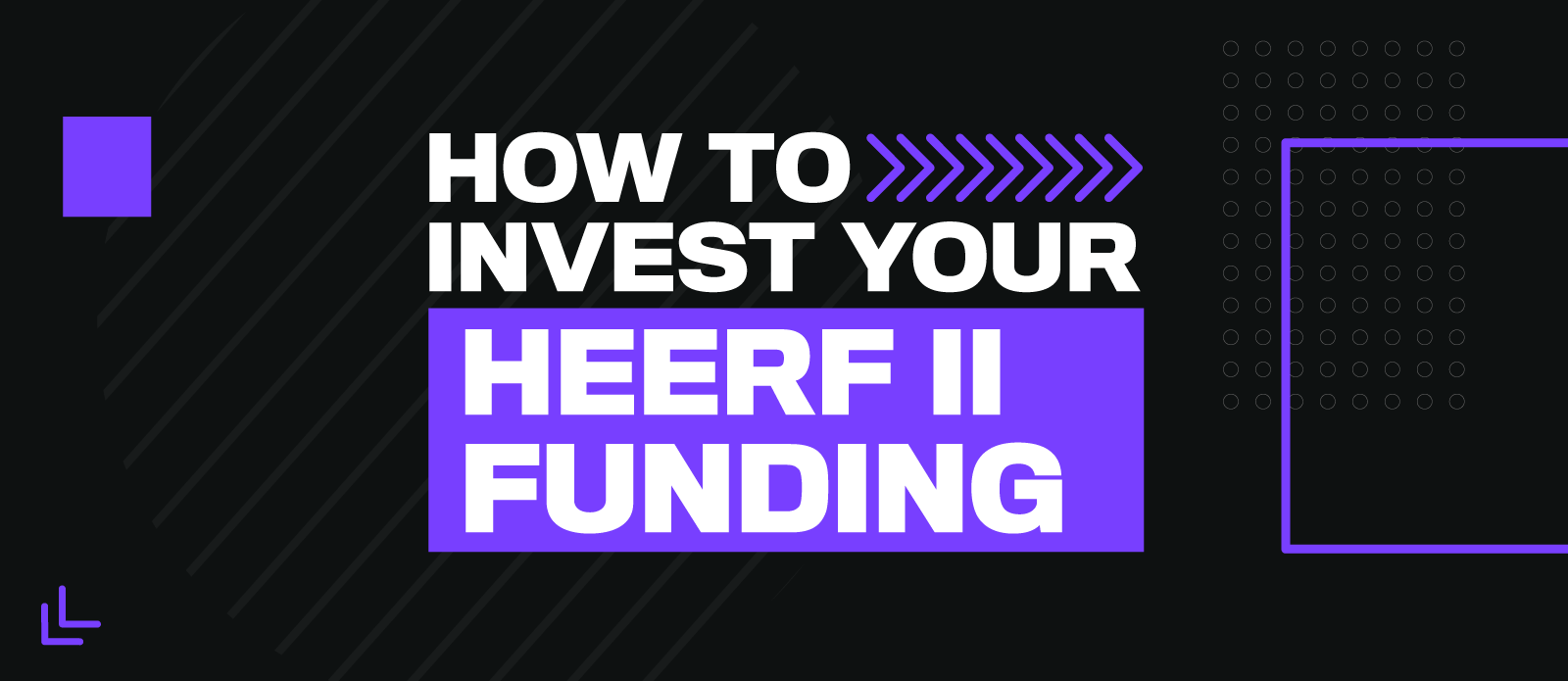 This is a pivotal time for colleges and universities. They are dealing with declining enrollments, lost revenue, and hiring freezes, furloughs, and layoffs, and there are even predictions that some universities may permanently shut down because of the pandemic. The federal government has given schools a few lifelines, although it is far short of the $120 billion college leaders initially requested.
Higher Education Emergency Relief Fund
HEERF (short for Higher Education Emergency Relief Fund), which is part of the CARES Act, provided $14 billion to colleges and universities in March 2020. In January 2021, HEERF II authorized sending post-secondary schools an additional $21 billion in emergency funding. Institutions are required to spend the money prior to 2022.


How can colleges spend the HEERF money?
Part of HEERF II funds must go to students eligible to receive financial aid such as Pell Grants and PLUS Loans.

Colleges and universities cannot redirect emergency student grants for:
Student scholarships
COVID-related costs, such as:

Purchasing laptops and hotspots or filling a food pantry
Reimbursing students for room and board, tuition, and additional costs beyond tuition such as orientation and student activities fees
Providing emergency aid to students ineligible for student aid
Outstanding or overdue bills students may owe the college

Payment of student workers
Institutional Portion
The remaining amount, the institutional portion, goes directly to the colleges and can be used for:
Award additional financial aid
Defray expenses incurred by the pandemic, including:

Lost revenue
Reimbursement for past COVID-related expenses
Technology costs associated with distance learning
Faculty and staff training
Payroll

Invest in student support activities that address needs related to the coronavirus

Like what you're reading? Sign up for the Higher Education News Brief, and receive the top stories from across the landscape of Higher Education every Monday, Wednesday, and Friday.
Innovative ways to invest the heerf ii money
Both technology and student support activities outlined in HEERF II offer colleges and universities the most flexibility to enact forward-thinking and innovative programs at their institutions. Below are some ideas.

Invest in Students' Mental Health
Getting immediate help from trained mental health professionals has long been a problem for college students, and the pandemic has turned it into a full-blown crisis.

A spring 2020 survey of public university students found that 85% reported high- to-moderate levels of emotional distress, and college presidents reported that students' mental health is the most pressing issue they're facing.


The City University of New York
Campuses can follow CUNY's lead and designate $5 million of federal funding to expand its mental health and wellness staff and services. Other schools, including UC Santa Barbara, have offered students free subscriptions to apps that help them manage their emotions.

If you are looking into mental health apps, the Anxiety and Depression Association of America has evaluated several of them, including Headspace, PTSD Coach, and Panic Relief, and has rated them based on five metrics, including effectiveness, ease of use, and personalization.


The University of California, Los Angeles
Other institutions are creating their own videos, worksheets, and webinars to address the specific mental health and wellness needs of their community. UCLA, for example, launched a COVID-19 care package that included original videos from its psychologists to address feelings of fear, overwhelm, and anxiety.



Stop Vulnerable Populations from Dropping Out
Approximately 16 million Americans reported canceling their plans to attend college due to the pandemic, and we know that a disproportionate number of Black, Latinx, low-income, and first-generation college students have been adversely affected by the coronavirus and distance learning.

Since the pandemic struck the United States last year, colleges quickly moved to loan laptops and hotspots, but students most vulnerable to dropping out need even more resources.

Recognizing that students may not have a quiet learning space or may be distracted by their financial, emotional, and health problems, schools could use HEERF II grant money to create robust study-at-home packages.

Physical items could include noise-canceling headphones and wireless mice. Still, university leaders could also fund free subscriptions to note-taking services such as Glean and Sonocent, offer complimentary online access to e-textbooks, subscriptions to a transcription service like Otter.ai for learners who prefer reading over videos.


Foster a Sense of Community
The pandemic has gone on so long that it is possible some first-year students have never met their classmates or know what their campus looks like outside of photos they've seen online.

Colleges and universities have settled on Zoom, WebEx, Microsoft Teams, and Google Meet for their online instruction, but they can also invest in different tech that is more conducive to community building.

Gather.town and Topia, for instance, place users in customized virtual spaces where they can visit different clusters of people and freely enter and leave conversations. These platforms have been used to host socials, student club fairs, science poster sessions, and faculty office hours.

Universities also are supporting free or low-cost social options such as Twitch, Slack, and Discord as a way for students to connect in a more unstructured setting.



Improved Online Experiences
UNINCORPORATED has advocated for years that colleges invest in thoughtful, well-executed, and student-focused instructional course design. Unfortunately, eLearning content designers remained higher ed's best-kept secret until the pandemic struck. While more schools are beginning to reopen, online learning is not going away.

Although it has received a lot of negative attention, not all students want an in-person education. In fact, a July 2020 survey from STRADA found that nearly equal shares of people believe that online, hybrid, and in-person learning offers the best value for their money, and nearly half of women report that they would pursue online learning within the next six months. Now is the time to double down on online learning resources.

Funding instructional course design is one part of the solution.

Universities can use HEERF II funds to empower faculty for more effective remote teaching. Increased training in virtual learning platforms, sending professors home studio kits with webcams, microphones, and lighting, and improved course templates could elevate both the student and faculty experience online.
This article was co-authored by Marisa Demers.
---