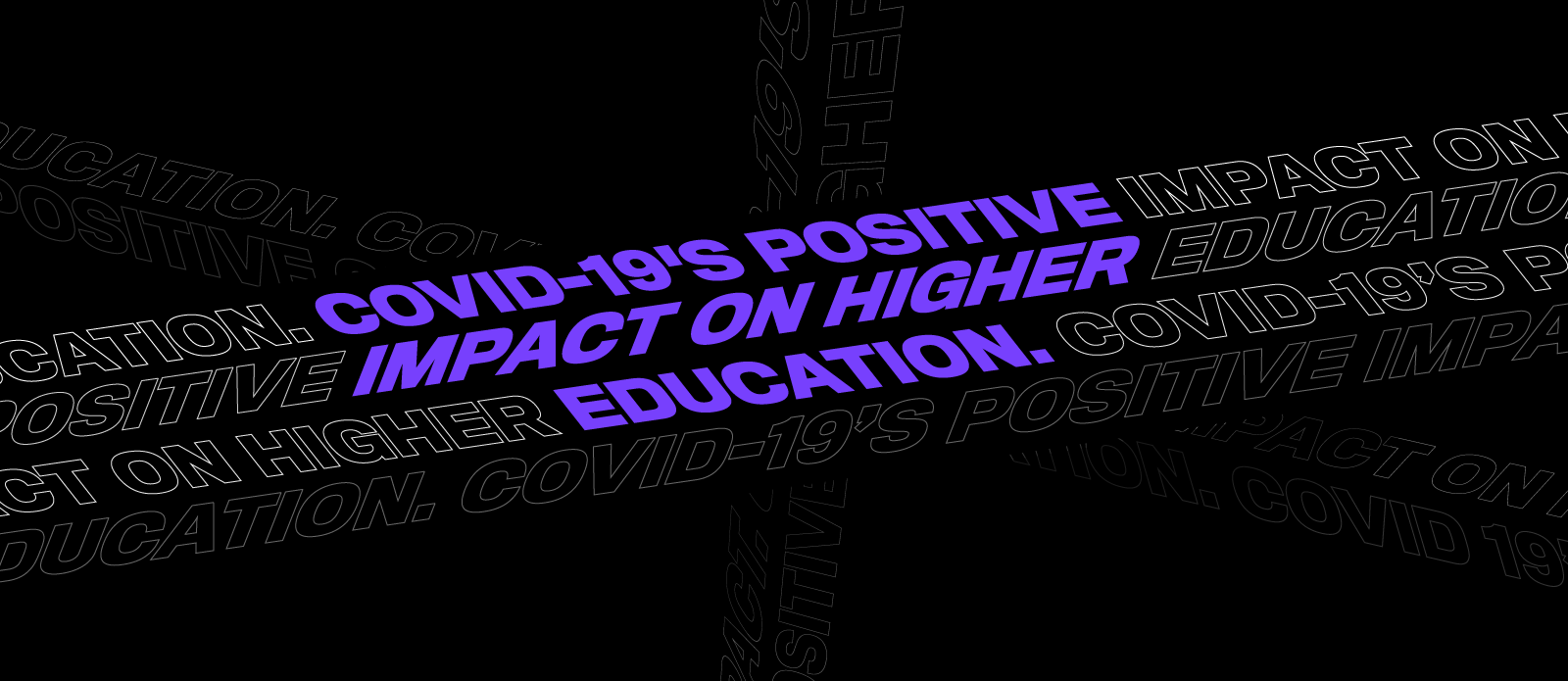 The COVID-19 pandemic has negatively changed higher education. The digital divide has deepened, a generation of young men may never seek a college education, and faculty and staff are stressed, burnt out, and fatigued.

Yet, times of great disruption also offer opportunities to innovate and improve business-as-usual practices. Let's take a look at three examples of the positive changes brought on by the pandemic. Like what you're reading? Sign up for the Higher Education News Brief, and receive the top stories from across the landscape of Higher Education every Monday, Wednesday, and Friday.
1. Instructional Course Designers Finally Get the Attention They Deserve
Before the pandemic, colleges and universities had a small but dedicated staff or agencies that worked with faculty to create online or hybrid learning courses. These jack-of-all-trade professionals, known as instructional course designers, test out the latest online tools, design eLearning content, create learning experiences that meets the needs of students, and much more.

And before the pandemic, they were a university's best-kept secret.

A 2018 Inside Higher Ed survey revealed that less than half of college instructors sought the help of instructional course designers, and some 25% did not even know what these professionals do.

The role changed nearly overnight when universities closed their in-person operations and were forced to offer classes online due to the pandemic. Faculty had to re-imagine their curriculum and sought the assistance of instructional course designers.

Now, this field is considered the "hottest" job in academia. Job postings for instructional course designers have increased even as institutions implemented layoffs and furloughs.

Instructional course designers have been the unsung heroes during this challenging time and we hope the value and contributions they bring to a university will be remembered well past the pandemic.



2. Getting Financial Aid is Becoming Easier
The Free Application for Federal Student Aid (FAFSA) is an important tool in helping young adults finance their education. Not only does it connect students to Pell Grants, but states, universities, and private scholarship organizations also use it to distribute both need- and merit-based financial aid. Interestingly, 52% of parents and young adults think FAFSA is only used to determine federal student aid.

Completing the applications is also a stressful, boring, and tedious process. Applicants need to answer 108 questions, set aside an hour of time, and have the patience to understand 23-word sentences with headache-inducing words such as "adjudicative" and "identifiers."

Some dislike the experience so much that they never submit it. The National College Attainment Network says that each year students collectively leave $2.5-3 billion on the table by not filling out the FAFSA form.

Thanks to Congress, which passed a COVID-19 relief package at the end of 2020, changes are on the way.

Beginning in October of 2022, future college students will only need to answer 36 questions. And, at a time when some colleges and universities are facing bleak financial futures, and higher education seems too expensive due to COVID-19-induced job losses, lawmakers have helped make it more accessible.

The relief package also raises the maximum amount of Pell Grant aid by $150 to $6,495. Also, inmates and students with drug convictions can now be considered for FAFSA aid, making higher education within reach to more than 2 million Americans.
3. Student Retention Matters Just as Much as New Student Recruitment
Once the pandemic shuttered campuses and students began to learn remotely, a lot of attention was given to the Class of 2024 and, later, the Class of 2025.

Would they take a gap year? Would students opt-out of college and join the workforce? Then, when data showed a 16% drop in college enrollment among entering students, the spotlight shined even brighter on them.

Yet, sophomores, juniors, and seniors also make up a college community.


The University of Kentucky
The University of Kentucky was quietly and diligently focused on keeping the students it already had. The school's president capped tuition and fees resulting in savings up to thousands of dollars for students.

The university also continued to invest in its sophomores through the Second Year Success Program. The initiative provides learners with a peer adviser and a leadership coach who offers career guidance. For its past and current efforts, the university experienced a 2% increase in enrollment compared to pre-pandemic times.

Other higher ed institutions also increased their focus on student retention.


Champlain College
Champlain College raised $170,000 from alumni and friends to purchase airline tickets for students, mail loaner laptops, and deployed student affairs workers to help students connect to the internet and apply for food assistance and emergency grants.


Baylor University
Baylor University uses data to find out which students have not logged onto their learning portals. Faculty and staff members then reach out to them and offered technical, mental, and academic assistance.


University of Tennessee at Knoxville
The University of Tennessee at Knoxville helped returning students feel connected and valued through an ambitious telephone campaign in which volunteers called all 29,000 UT students.

Before COVID-19, approximately 40% of students dropped out of college. These initiatives, sparked by COVID-19, offer insight into what can be done to keep young adults in school.

We hope the attention lasts well after the country has recovered from this deadly pandemic.


This article was co-authored by Marisa Demers.


---