America's lite beer brands are feuding... again.
---
If you watched the Big Game on Sunday, you might have noticed a Bud Light commercial (produced by Wieden+Kennedy) that seemed to call out other beer brands for using "corn syrup."
Unfamiliar? Then, watch the ad spot below.
The spot builds on previous Bud Light's campaigns that feature characters from the Middle Ages enjoying the lite beer, but this time they took the opportunity to call out their competition. At first pass, I thought the commercial was very funny and effective in communicating a fundamental value proposition.
But, did you notice anything? The ad calls out the use of "corn syrup," not "high-fructose corn syrup." As an astute friend pointed out, the commercial never said that corn syrup is bad - they simply let the viewer associate the negative things they've heard about high-fructose corn syrup with their competitor's products. The commercial was so funny and entertaining that you stop thinking critically about what they're saying and subconsciously feel less positively towards other lite beer brands.
The ad was so effective that Miller Lite felt compelled to respond.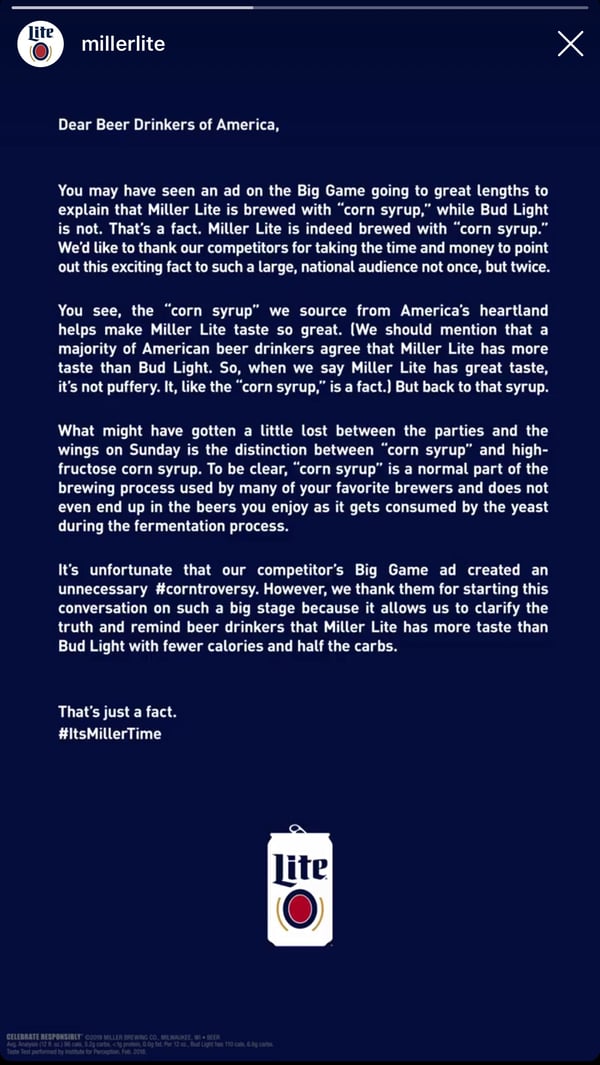 What can we take away from this saga?
Sometimes, what you don't say is just as important as what you do say. We're not opposed to blatantly calling your competition out - sometimes, you have to. But calling them out over irrelevant facts? Now that's next level.
Next thing you know, Wendy's will be calling out McDonald's for using salt!
As Ad Age points out, "both brewers seem to have calculated that the only way for each one to grow its market share in the declining category is to steal it from each other, meaning this fight won't end anytime soon."
Update: Bud Light has responded to Miller Lite's response on Twitter, like a good old fashioned battle rap! Coors Light has even jumped in by delivering a truck load of beer to the National Corn Growers Association office.
---
We love thinking about advertising creative, messaging strategy, and brand positioning. Connect with us if you need help developing your next branded campaign or improving your brand messaging.