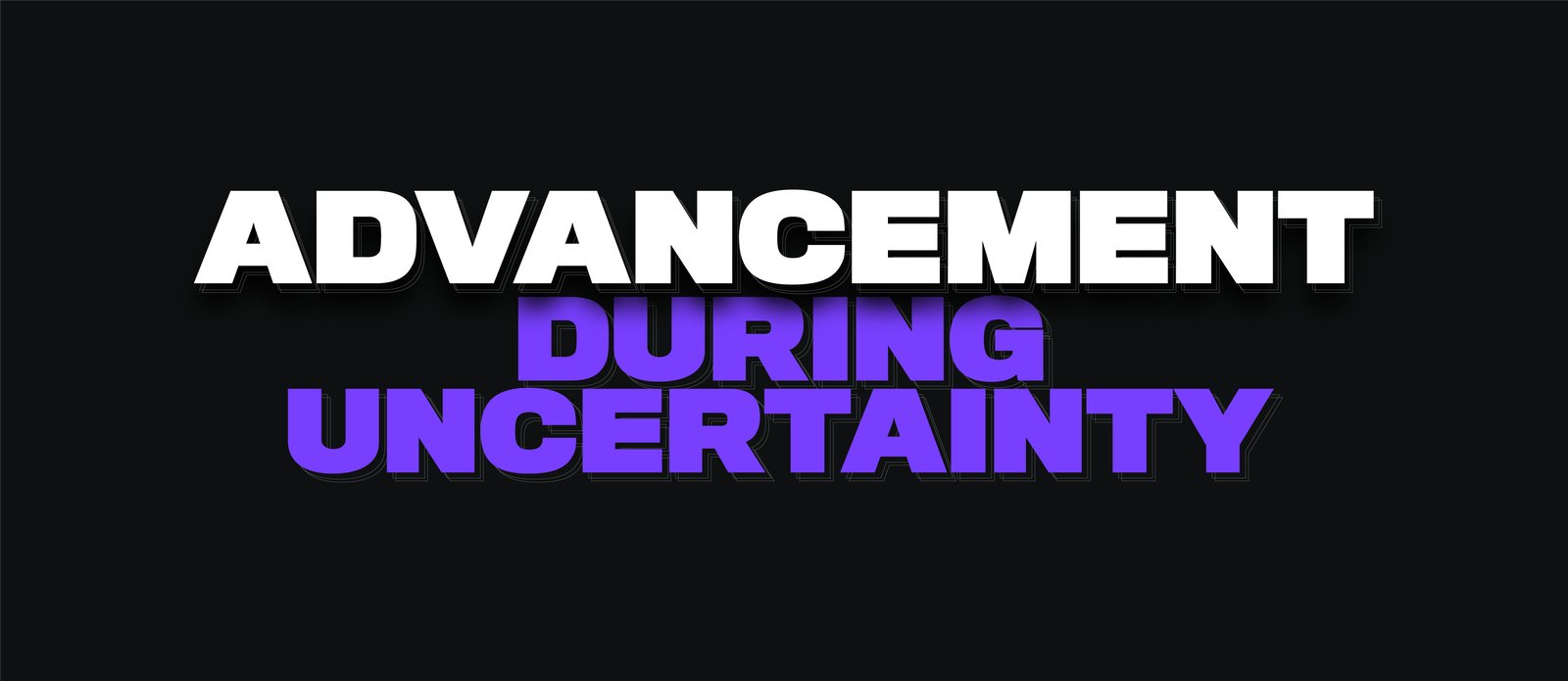 The Coronavirus pandemic changed all our lives. For colleges and universities, it meant altering how students learn and engage with their classmates. For faculty, it meant changing classroom instruction. On another part of campus, donor relations professionals were also experiencing significant changes.

Generous, record-setting gifts and consistent alumni giving are no accident. Advancement professionals work hard to build relationships and an effective donor engagement cycle. Through letters, personalized communications, and face-to-face visits, they make sure that donors see their philanthropic dollars in action.

Right now, the field of university advancement seems to be in a perfect storm. More than 40% of institutions of higher education expect a decrease in annual giving in 2020. Meanwhile, colleges are still unsure about how to reopen campuses in the fall. Requests for financial aid are expected to rise in 2021 and some donors may no longer have the capacity to give. How do donor relations professionals move forward in this environment?



A Donor Relations Strategy that Shows Vulnerability

In the early days of the pandemic, Lynne Wester of Donor Relations Guru, offered several COVID-19 donor relations resources, including tips on how to communicate with donors. Near the top of her list was this piece of advice: be real and be vulnerable.

Yet, donor relations best practices recommend a college voice that is proud, excited, and boastful. Universities rarely show their vulnerability. However, changing the tone is critical, say donor relations professionals.

After Worcester State University postponed all its in-person events, Thomas McNamara, Vice President of University Advancement, sent a postcard. It was a heartfelt message that focused on readers' health and safety. It asked nothing else, not even a gift to the annual fund. In any other moment, the message would have been viewed as simple. But it worked for its time.

McNamara wrote: "I look forward to sharing with you the simple gesture of a handshake, a pleasant meeting over coffee, and an invigorating game of golf (the best kind of walk!). These things are not far away. Until then, stay well, Lancer Nation, and stay resilient!"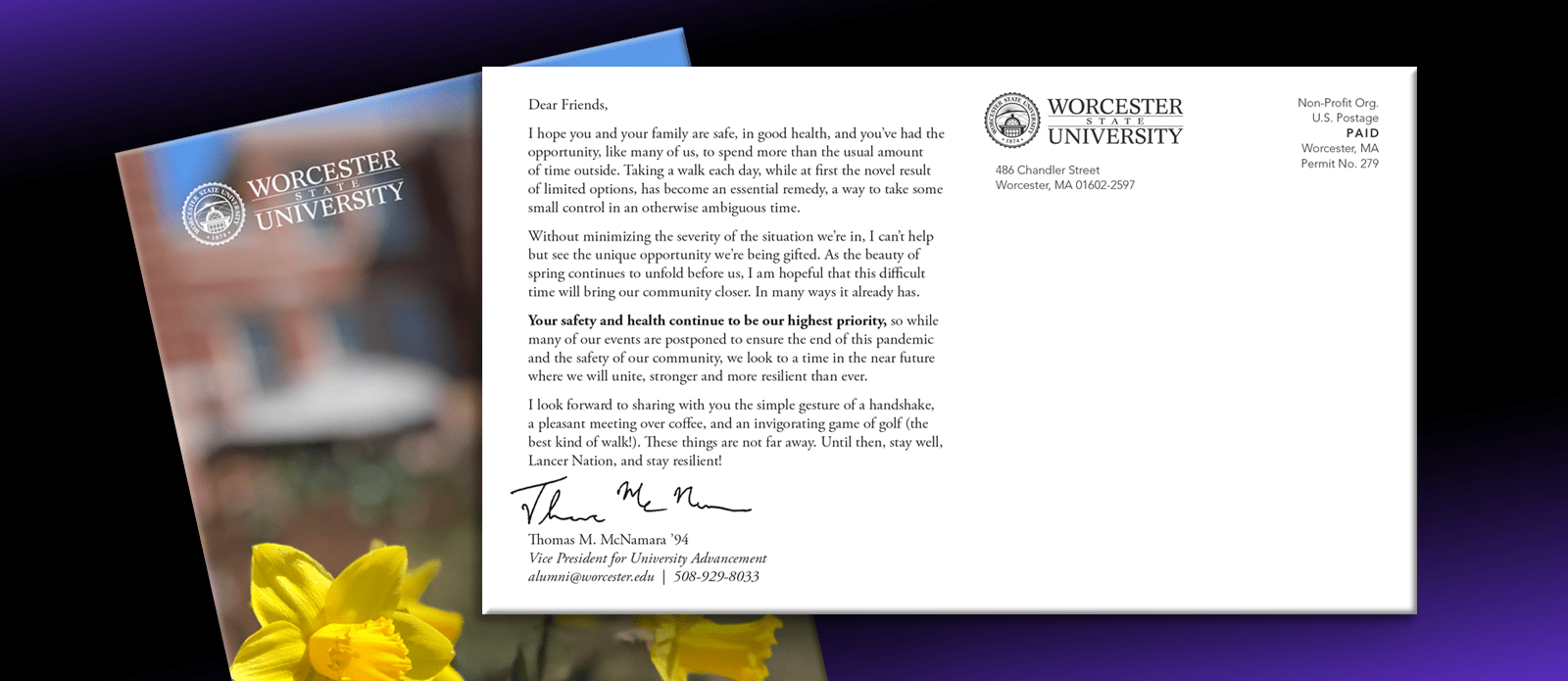 Ratri Lertluksamipun, Development Officer for Alumni & Constituency Relations for USC Architecture, said his school also had to find a new way to talk to donors.

"We've shifted our narrative to be more transparent in sharing how USC Architecture is working through challenging times, and how we will remain resilient," Lertluksamipun says.

Donor relations and stewardship plans are often focused on how the talent of today's students, together with boundary-pushing science and art, will create a better tomorrow. Lertluksamipun and his colleagues discovered there was a way to continue that donor engagement strategy without ignoring the times we are living in.

Stories about USC Architecture students who 3D printed protective face shields for doctors, nurses, and hospital workers resonated with the school's alumni and donors. An article about a multidisciplinary project, Project Héroe, which will study how infrastructures can "thwart future pandemics" also engaged the college community.



Don't Have a Cookie Cutter Donor Relations Strategic Plan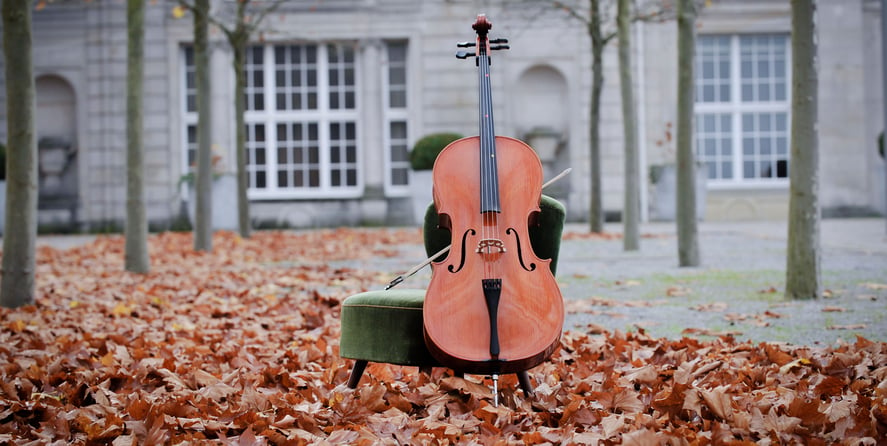 Advancement professionals, like workers in other industries, have goals they need to meet. But COVID-19 doesn't care about donor engagement or fundraising benchmarks or how to increase donor giving. Now is the time to be flexible and adjust your donor relationship management strategies.

Giving days were a prime example of a fundraising initiative that had to be re-imagined. Boston College, like many U.S. colleges, had scheduled its annual giving day in Spring 2020. These one-day events are often the first step in the donor engagement lifecycle because it attracts so many young alumni and first-time donors.

Giving days also serve an immediate need. They generate as much as 5% of an institution's annual revenue. Given the current climate, Boston College pivoted and created a Day of Caring. The college encouraged its community to share stories of alumni who care. There was only a soft ask to support the college's most economically vulnerable students.

We already learned that once the pandemic spread to the United States, alumni relations teamshad to pivot their events and programming to digital platforms. Mike Carroll, who serves as Director of Donor Engagement at Compass College says his college embraced a similar strategy.

"We believe that with the importance of a meaningful, high-touch, virtual strategy quickly becoming the new norm in donor relations," Carroll says. "We are excited to see how this will unfold!"

Recognition of scholarship donors is one area of donor relations that was ripe for digital innovation. Typically, scholarship recipients type a letter to college donors. This year, colleges stepped up their acknowledgments by using videosand personalized messages on ThankView.



Class of 2020 Alumni and Beyond Need a New Donor Relations Approach

Alumni donors contribute because they often enjoyed and found value in their college experience.

What does this mean for the Class of 2020 graduates who had a bittersweet ending to their college career? More than likely, they celebrated the end of their college experience at a Zoom meeting instead of the commencement stage. What donor relationship management will they need?

"I expect that the university will first need to listen to its alumni before we begin asking them to give," says Patrick McCoy, Assistant Director of Annual Leadership Giving at Loyola Marymount University. "Projecting out even further, the Class of 2021 is now returning to an educational environment that is different and less social than what it used to be. As development officers, I believe it would be beneficial to review these changes in anticipation of conversations that may come into play in the future."

There are a few reasons McCoy and his colleagues should be hopeful. Approximately 30% of Generation Zers, which includes the Class of 2020, are already donors, and more than a quarter volunteer. This group has shown an interest in helping others. By striking the right tone, donor relations teams can engage this demographic.


This article was co-authored by Marisa Demers
---