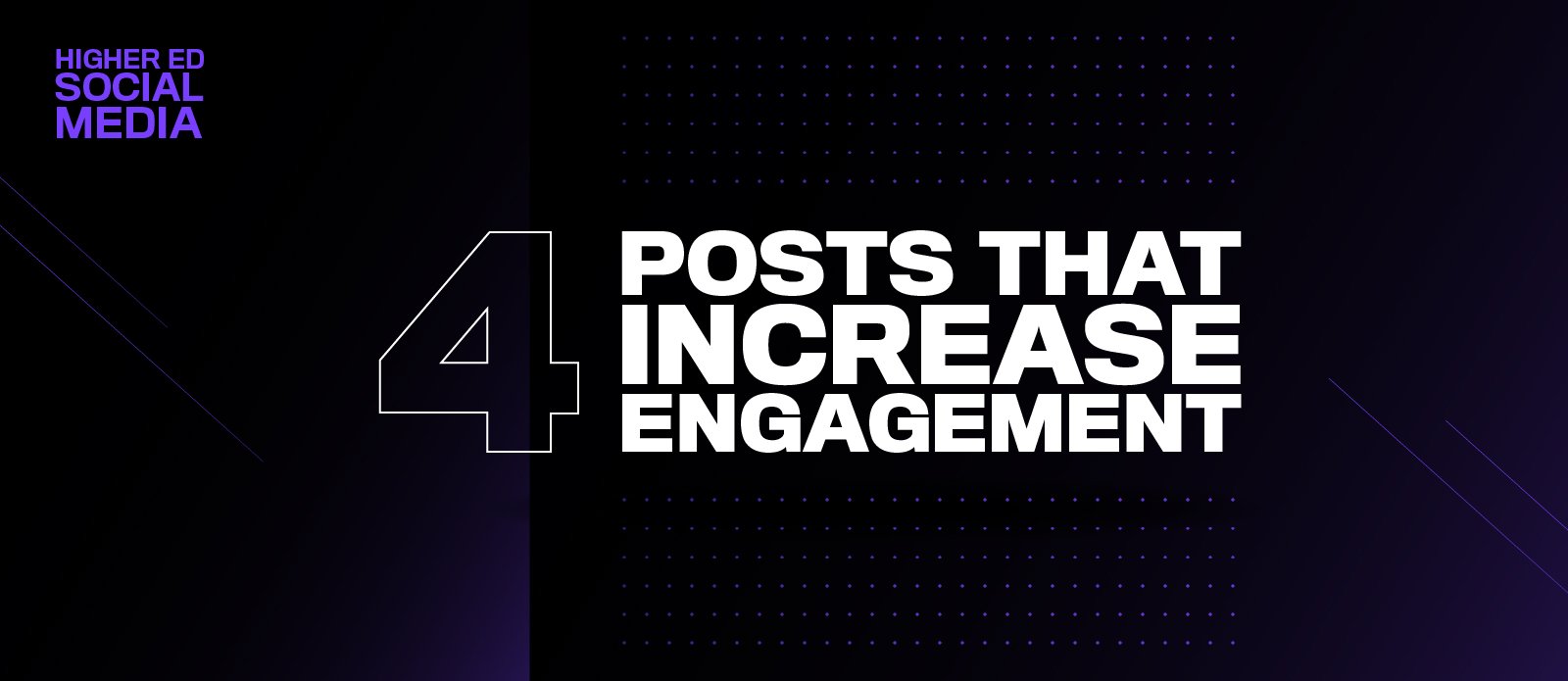 Social media has been a top communication tool for nearly 20 years and, at this point, all universities understand that they need to be on it. The students they serve demand it, too. According to a 2019 EAB report, 86% of teens expect colleges and universities to have a social media presence. Nearly 75% reported that they are willing to interact with social media channels of schools they are interested in. Approximately 85% of current college students use Instagram, while older alumni are more likely to use Facebook.
Yet, merely having a social media presence doesn't guarantee your audience will find your posts, want to engage with them, or reinforce positive feelings about your school. Every message, picture, and video shared on social media needs to couple the latest data insights with a sound social media strategy. Ultimately, alumni, current students, and prospective students who read your post should have a better understanding of your college's brand, including your values and unique contributions. Social media should also help create a sense of community and goodwill.
Some colleges and universities are on top of their social media game. Why found a few examples of what happens when you mesh good data with good strategies.
Posts Should Create Community, But Keep It Short
Brief posts that link to equally brief stories are shared more often than longer posts and stories. Indiana University took that insight to heart after its men's basketball team's thrilling First Four victory over Wyoming. In sharing a post from the Athletics department, IU did not use a single word. Instead, it shared only its school colors. The post garnered 9,000 likes or hearts on Facebook as well as 680 comments and more than 2,000 shares. More importantly, the post provided a place for members of the Hoosiers community to join together to celebrate the big win. People shared photos of themselves at the game while others reminisced about past Hoosiers victories.
Content That Makes You Want To Love and Laugh
In higher education and across various industries, including health, business, and politics, the heart and laughing emojis are the most popular reactions on Facebook. Sharing positive news provides your audience with an upswing in emotion and creates goodwill with them.
Like what you're reading? Sign up for the Higher Education News Brief, and receive the top stories from across the landscape of Higher Education every Monday.
Amherst College found a way to generate some heart emojis using an easy tactic–dog videos. The college's police department recently adopted a comfort puppy to help students experiencing mental health challenges, stress, or trauma. A video showing "Moose" walking around campus, meeting students, and attending athletic games garnered close to 2,000 likes, almost doubling the likes of the college's average Instagram post. Syracuse University also generated some feel-good emotions with #SyracuseBound, a digital-first initiative designed to increase applications of prospective students and enrollment of admitted students.
The campaign's centerpiece video rebuffs the serious and emotional recruitment pieces that other schools create. Instead, it opted for a high-energy, fun, and quirky video that showcases the fun side of being a college student. Accompanying videos of the #SyracuseBound campaign on social media also included reactions of students being accepted. Its most recent reaction video generated 5,900 shares, 249 clicks and hearts, and 26 comments on Facebook. Admitted students could also download cover photos and Instagram images that included phrases such as "I Got In!" and "Syracuse Bound." The social media efforts have paid off. In 2021, Syracuse experienced a 24% increase in student applications.
What, Why, and How Content for the Win
Newspapers have mastered the ability to pique our interests on social media by asking basic but important questions. Why are food prices going up? What is crypto?
Johns Hopkins has leveraged this tactic for its college audience. The research institution has posted a series of COVID-19 questions including, What does the end of the pandemic look like? Should schools be open during the omicron surge? Why It's Time to Upgrade Your Mask to an N95 or KN95. Each story offers useful information from a Johns Hopkins expert.
This approach drives engagement. COVID-19 posts were shared often and the mask story generated 237 shares and 799 reactions on Facebook. Given the politicization of COVID-19, the responses were not always favorable. Johns Hopkins, however, was not trying to do a form of outrage marketing. Instead, it was expressing its values by showing that data and science should inform best practices and strengthening its reputation of being one of the country's oldest, most respected research institutions.
Content That is Relevant to News
Social media is the main source of news for Americans today. Yet, newspapers do not have to be the only entity driving news, adding informed perspectives, or benefiting from the rise in engagement that accompanies headlining-grabbing national and world events. Higher education institutions can position themselves as an authoritative source while also strengthening their brand. Recently, Dartmouth's Twitter page highlighted the work of a professor who studied how the COVID-19 vaccine supply could be expanded by half-a-billion doses per month by using only half doses. The school also took a deep-dive discussion on Russia's invasion of Ukraine and the West's response with the college's international studies program director.
This article was co-authored by Marisa Demers.
---