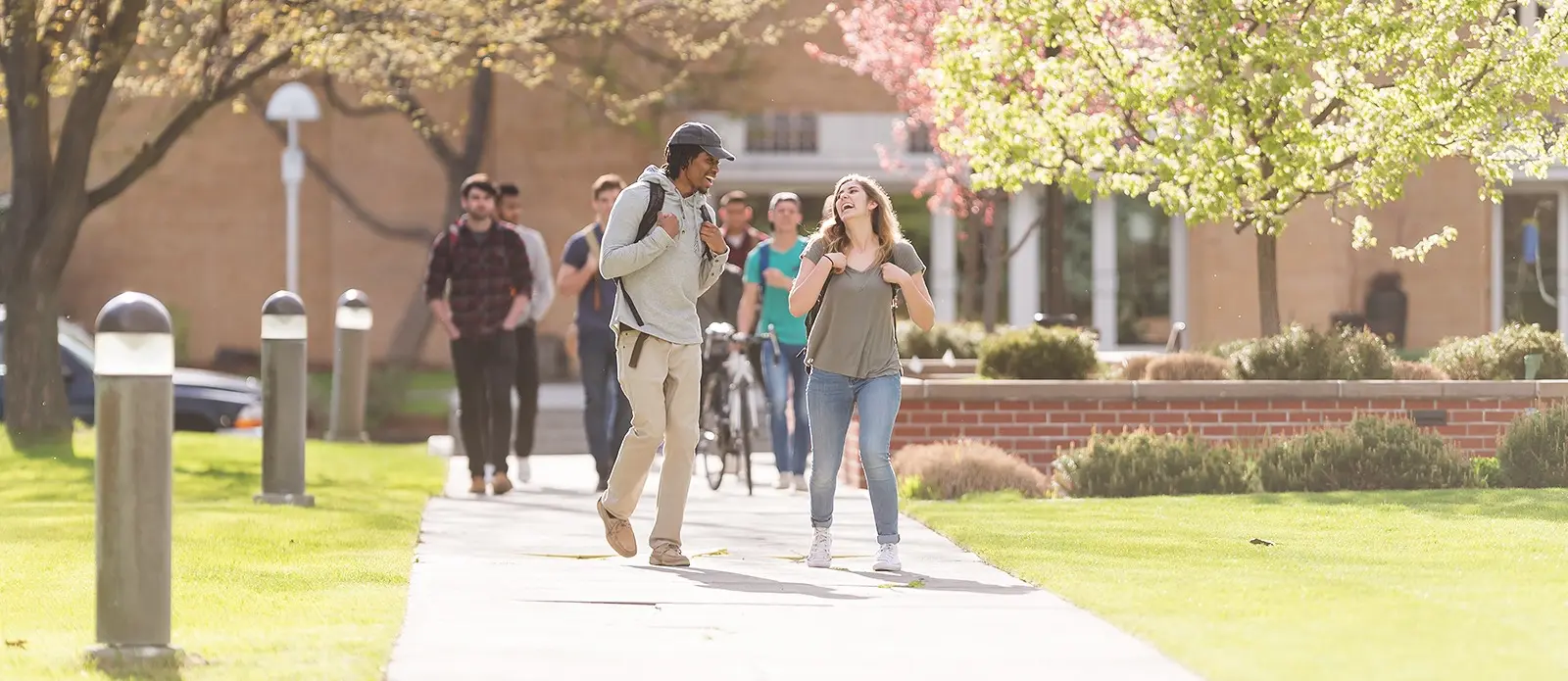 Higher education marketing agencies have a special job. Unlike traditional products or services, they're tasked with communicating the value of a college experience, an intellectual and personal transformation.


A college experience is more than a degree. Prospective students choose schools that will prepare them for a career, build their professional network, and provide real-world experiences. They weigh not only the academic values of each school, but also the spirit and personality that makes the school unique.

And the landscape of who enrolls in college looks a lot different today than it did five or ten years ago. It's no longer just 18-year-olds entering straight after high school or a gap-year experience. Instead, there is an increasing number of non-traditional students, including single-parents and students who are employed full-time.

Higher education marketing agencies must have strategies not only for traditional students but also know how to market to adult learners who now make up 27% of the undergraduate student population.
---

Digital Marketing for the Education Industry

Digital marketing is like a giant golf umbrella you'd find in university bookstores: it includes everything from publishing content to announcing new programs and recruiting students.

Although growing overall, digital marketing is new for many schools with traditional universities relying on their reputation, alumni, faculty, and regional footprint to recruit students every year.

If we include recruiting students for online programs, the digital marketing landscape is more involved. Many universities work with OPMs (Online Program Managers) to develop the online learning environment, recruit students, and manage the enrollment process.

Many schools have an in-house operation for social media, event planning, and admissions, albeit sometimes disconnected. Digital marketing often gets pushed off: no time, no budget, no need. However, there's an untapped wellspring of content that can be used to make compelling marketing materials.
What is Inbound Marketing for Higher Education?

Inbound marketing for higher education is the process of building brand awareness and recruiting students without paying for digital ads. The difference is that inbound marketing focuses on creating value for prospective students, whereas paid advertising focuses more on communicating perceived values.

The key performance indicator of inbound marketing success is typically an increase in website traffic from search engines, content platforms like YouTube, and referrals from other websites.

Why is Inbound Marketing Important for Schools?

Recruiting online students is not easy: over 10% of 18-34-year-olds are "adlergic" to paid advertising. Paid ads will always have their place in an integrated marketing campaign. Still, without a focus on inbound marketing, universities will be forced to pay for leads or rely on their brand's reputation to attract new students.

Secondly, inbound marketing enables schools to build trust and establish authority by developing content for students to enjoy. Think about this: how inclined would a prospective student be to apply to your master's degree program if they learned advanced business administration skills from your YouTube channel?
How to Create an Inbound Marketing Campaign

Fortunately, creating an inbound marketing strategy is a repeatable process:


Identify content gaps in the market

Develop search engine optimized content that fills in the gaps


Build an inbound marketing funnel that converts visitors into qualified leads



Higher Education Inbound Marketing Example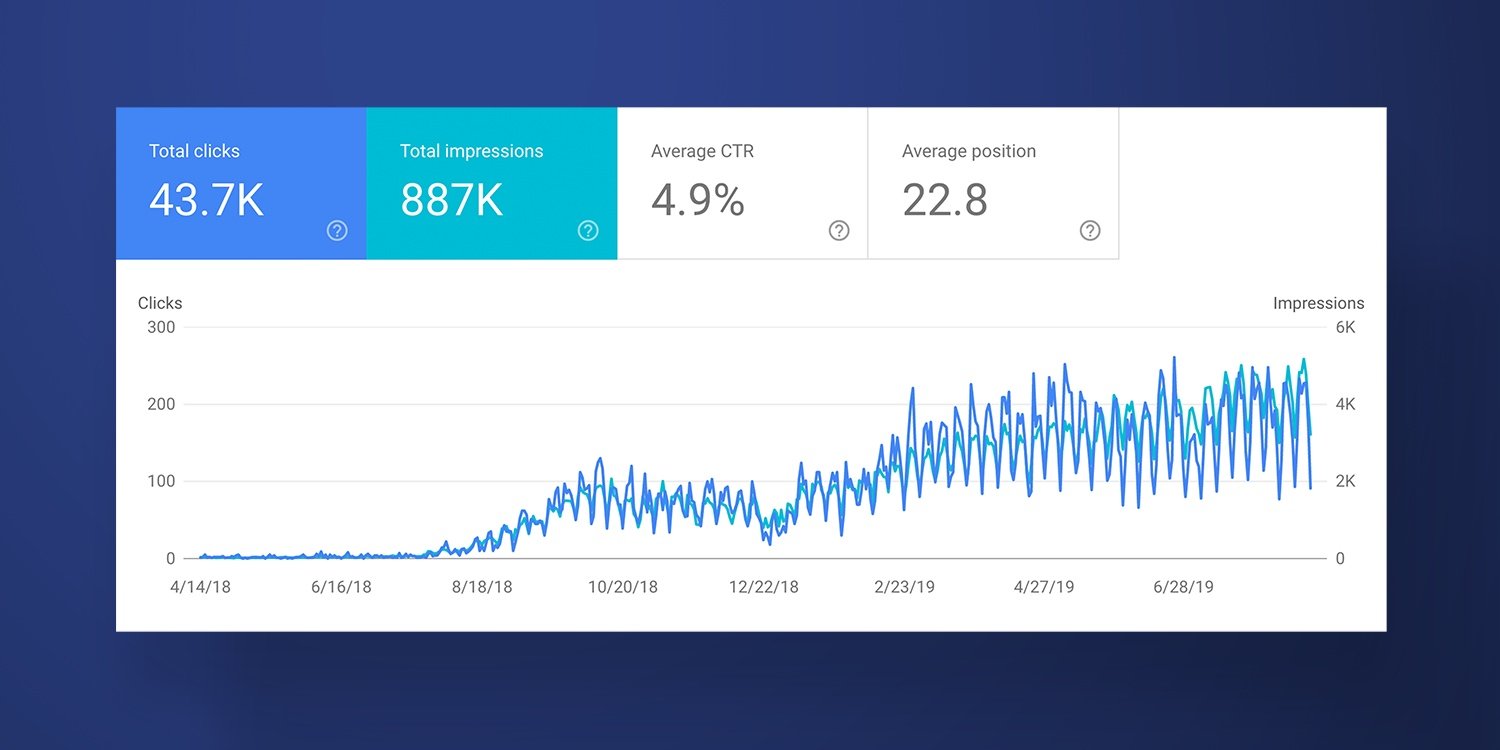 The USC Sol Price School of Public Policy's Executive Master of Leadership program wanted to recruit students without paid advertising. Given our student personas and the premium on leadership, we identified "leadership style quiz" as our keyword target (high search volume, low competition) and developed an interactive assessment.

Since publishing the quiz, it has generated over 11,000 leads (and counting), has been used by organizations including Accenture, Disney, Kaiser Permanente, NYU, and still ranks on the first page of Google.

Inbound marketing is about creating value. Although simple in design, the assessment helps professionals identify their leadership style and gives them practical ways to apply their style of leadership at work.
Using Video Content for your Inbound Marketing Strategy

Online programs are the perfect fit for inbound marketing. Why? Videos are central to the online learning experience, and video is still the best performing content format.

Video content for higher education inbound marketing strategies can explore current topics, explain fundamental concepts, showcase classroom exercises, or dive deep into trending subjects. Free, "teaser" videos demonstrate the quality of a college's education and inspire students to enroll in a university's online programs.

Universities can also repurpose live streamed events. With a few small edits you can highlight specific moments and key ideas, and share microlearning videos on platforms like Instagram, IGTV, Facebook, and YouTube.

Higher Education Social Media Marketing

Unless something goes viral, most social media marketing for schools is designed to keep current students, parents, alumni, and faculty informed about news and activities happening around campus.

Prospective students considering your school also use social media to gain perspective on what life is like for students, so it's important to remain active and feature a variety of student and faculty voices.

Although marketing on social media platforms like Instagram is best at keeping people connected with your school, paid social advertising can be used to grow followers, generate leads, and build brand awareness.

Designing Higher Education Marketing Collateral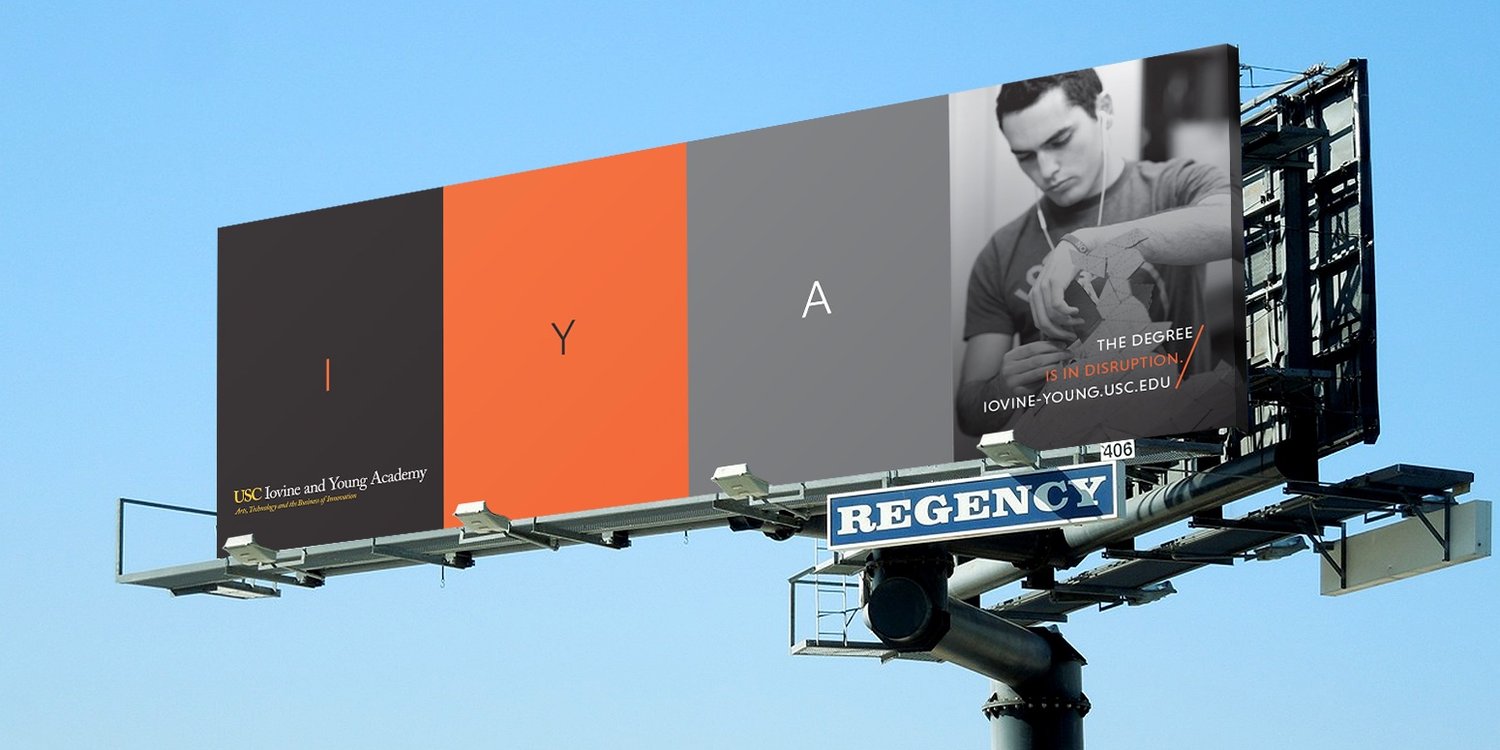 Nothing changes faster than an 18-year-old's mind, and nothing changes slower than large academic institutions. This isn't a dig at high school seniors or universities; young students are still discovering who they are, and institutions have an educational responsibility to uphold.

Higher education branding is the unifying language that enables institutions to communicate their value to incoming students year after year. Although print marketing may have shrunk in other industries, the college brochure, event posters, or academic calendar still play an essential role in the marketing mix.
Print Marketing Collateral Examples

USC's Dornsife College took inspiration from the night's sky for their suite of 20+ print marketing materials to evoke the prospective student's curiosity, aspirations, and desire to connect with something more significant.

USC's Iovine and Young Academy, with degrees at the intersection of art and technology, chose a modern, refined design aesthetic for their school branding.

The Herman Ostrow School of Dentistry of USC broadened its color palette to design brochures that accommodated five online postgraduate dental degree programs with certificate and master's options.
What is Enrollment Marketing?

The return on investment for most higher education marketing campaigns is enrollment. So the focus of enrollment marketing cares about one thing: enrolling students in a program.

Enrolling students requires a multi-faceted approach. Enrollment marketing typically combines different marketing tactics, including lead generation, automation, and faculty support.

Diving deeper, enrollment marketing can have specific goals like increasing the quality of students, improving the student experience, or streamlining the admissions department's process.

Enrollment Marketing Case Study


The USC Thornton School of Music wanted to launch new graduate programs in 2017. Using paid advertising, inbound marketing content, and marketing automation, we generated interested prospects, nurtured them toward completing an application, and helped the admissions team enroll students.

The campaign started with a brand development workshop to understand how to position these five new programs, understand the ideal student for each degree, design creative, and then launch the ad campaign.
Choosing a Higher Education Marketing Agency
A college degree has the power to change a person's entire life, so prospective students painstakingly evaluate their options. Schools looking to partner with a higher education marketing agency need to be equally as discerning to ensure their partner can deliver something students and faculty will love.

Here are four things the best higher education marketing companies get right.

1. They Play to Your Strengths

When choosing a higher education marketing firm, it's crucial to find a firm that can design experiences that exemplify the spirit of the school or program.

For example, to capture the Glorya Kaufman School of Dance's "The New Movement" campaign, the design team expressed movement and energy through powerful videos and website images, and places prospective students in the audience, giving them space to imagine themselves on center stage.
2. They Deliver Consistency

Whether it's marketing an online program, branding an on-campus restaurant, or designing t-shirts for the engineering school, university marketing agency's must adhere to the school's brand guidelines.

Brand identity guidelines ensure every part of the school feels like it is part of the greater whole. This consistency increases brand recognition and builds trust. Anyone interacting with a college should be able to immediately identify who they are engaging with and feel connected with the institution.

3. They Know What Works

Schools partner with higher education marketing companies for a variety of reasons. Companies should be well versed in marketing strategies including, content development, inbound marketing, marketing automation, social media marketing, paid advertising, marketing analytics, and traditional media.

Regardless of the campaign, the company's responsibility is to provide strategic counsel and deliver results. Whether or not they are the best fit to execute all of the desired work, they can guide you in the right direction.
4. They Create Capacity

One reason why schools work with OPMs is that they allow small and often underfunded school departments the capacity they need to recruit students and deliver an online program semester after semester.

Building capacity with a higher education marketing company has two main advantages compared to OPMs:


They don't require percentages of student tuition

Contracts are much shorter in duration (typically annual).


Choosing the right higher education marketing agency will make your team of four feel like a team of ten, give you access to a team of creative professionals, and offer you more budgetary flexibility.

---