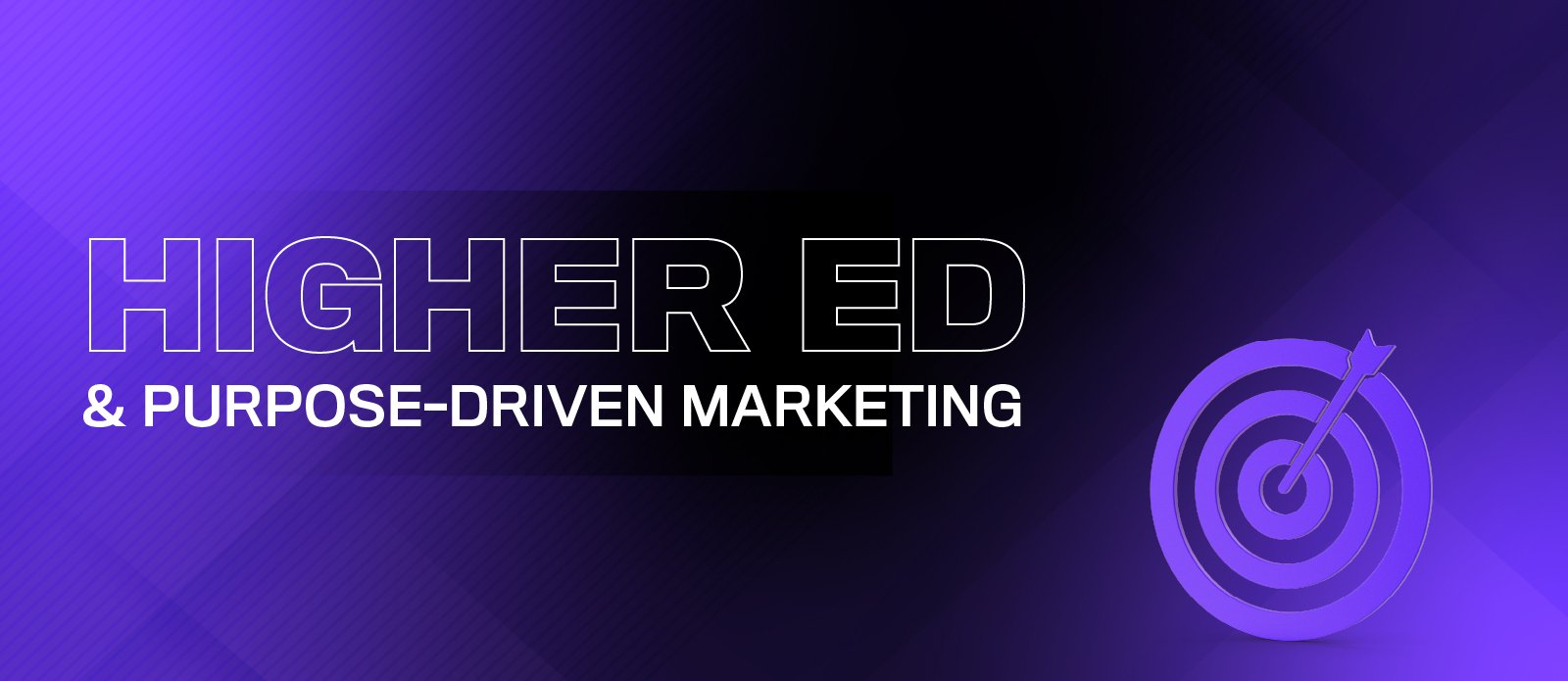 There is an open secret in higher education. The marketing of colleges and universities is safe and a little bit based on fear. That's why you'll often see the same buzzwords used across a wide spectrum of schools. Students and their families will read about "curious and creative thinkers" at liberal arts colleges. Meanwhile, professional schools will tout their "career-ready" graduates who have "grit." Nearly all promote their "diversity, equity, and inclusion" initiatives, even though that colleges and universities vary wildly in achieving those goals.

Embracing purpose-driven marketing is one way to break free from higher ed sameness. With this marketing strategy, an institution aligns its values with a cause. Think about how much you associated Patagonia with sustainability. Or faith with Chik-fil-A. Purpose-driven marketing lets schools communicate with prospective students on a deeper, more authentic level. Below are schools that aren't seeking a universal appeal, and are celebrating their higher-level purpose.
Hampshire College: Disrupting the Status Quo
A lot of colleges share the same founding mission. Many share Johns Hopkins University's "expansion of knowledge" or Stanford University's promotion of "public welfare." But Hampshire College in Amherst, Massachusetts, was designed for disruption. Established in 1965, Hampshire was conceived by presidents of nearby colleges who wanted an institution that could question "assumptions and practices of higher education."

Despite an attempt a few years ago to make it more mainstream, Hampshire maintains its unconventional ethos. Students don't receive letter grades. And, instead of majors, they devote their time to addressing a problem and designing a curriculum to solve it.
Like what you're reading? Sign up for the Higher Education News Brief, and receive the top stories from across the landscape of Higher Education every Monday.

And, thanks to Its copywriting, Hampshire embraces its uniqueness. Phrases such as "tear down" and "radical learning" are used in promotional videos. On Hampshire's admissions website, it touts: "Forget traditional majors, GPAs, rote memorization and typical freshman and seniors." From the college's point of view, the world needs better and bolder solutions, and Hampshire students are the ones to come up with them.
Mt. Holyoke College: Dismantling Gender Oppression
Founded in 1837, Mount Holyoke College is a women's college in South Hadley, Massachusetts. Today, there are less than 40 women's schools, but before the 1960s there were hundreds of them because they offered a haven for females who wanted to learn but were mostly shut out of male-only institutions such as Harvard and Yale.

The women's colleges that remain today have leaned into their history. While they are no longer the only choice for women, they are the only institutions exclusively designed for their evolving needs and ambitions. In describing its history, the school wrote: "Mount Holyoke has always believed in the inherent power of women to innovate and take the reins. When such thought was not just radical — it was revolutionary." The rebellious theme continues into its promotional videos where a narrator says: "Mount Holyoke exists to .. dismantle gender oppression, challenge norms, to empower those the wider world underestimates."
Xavier University of Louisiana: Celebrating Black Empowerment
In 1916, a white nun established Xavier University of Louisiana, the nation's first black, co-educational, and Catholic university. Given the times and the city—New Orleans' segregation laws led to Plessy vs. Ferguson—the school's mission to promote a "more just and humane society" was nothing short of subversive.

Like all HBCUs, Xavier enrolls students of all races and backgrounds but the mission and the pride in black student success remains. Unlike other schools that bury their history or famous alumni in an About Us section, Xavier takes a deep dive into how the school shaped U.S. culture and laws. Through interviews and news articles, Xavier shares how students and leaders fought segregation and championed voting and civil rights. "Black History is Xavier's History," the school states on its home page.

Xavier is also focused on its present and future. It proudly brings together "high-achievers" and those who were deemed "at-risk" and enables both of them to thrive. Today, Xavier leads the nation in producing African American doctors.
This article was co-authored by Marisa Demers.
---