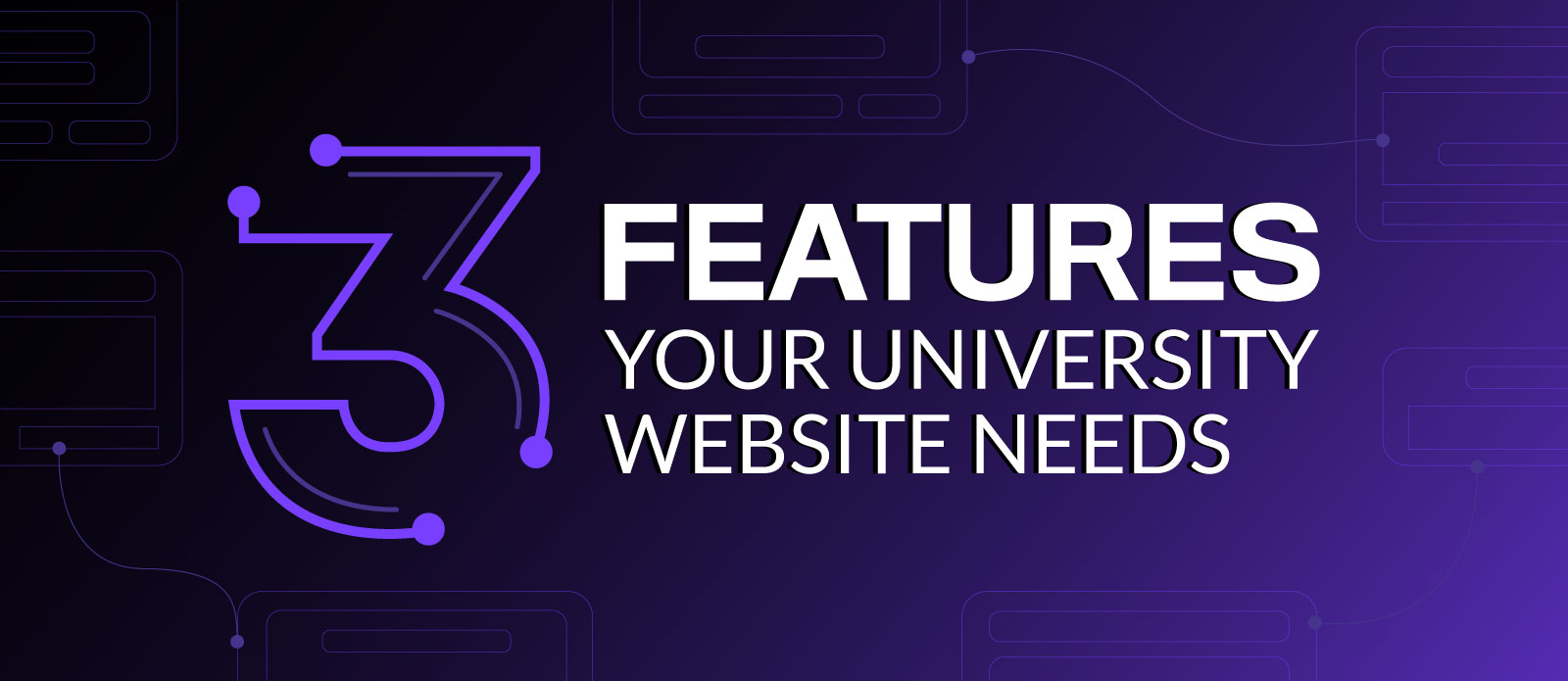 Video with aerial footage! SEO content! Social media integration! In the world of higher ed web design, analytics, and marketing, there is always a new trend to chase. Don't get us wrong, we love good web design, and have helped our clients integrate some of the latest features onto their sites. But, the truth is, the best buzz-worthy add-on doesn't mean much if it doesn't live up to your brand values and reflects a genuine need from your audience. Here's what your students and their parents actually want on your college or university website.
Interactive and Searchable Campus Maps
Colleges typically create campus maps for guests or those who are new to the college. Think first-year students trying to find their classes for the fall semester, prospective students taking a self-guided tour, or football fans attending a home game. Yet, campus maps can be a useful tool for all members of the campus community.
Stanford University's interactive campus map is a perfect example. It includes essential information that every school offers: buildings, parking, and places to eat. The map also points to many other useful sites on campus related to student life, safety, and health. Want to leave your dorm, get some Vitamin D, and study outside? Stanford's map includes lists of outdoor Wi-Fi hotspots. Need a lactation room or a quiet place to meditate or pray? Students, faculty, and staff can find a wellness room near them. Want to learn about outdoor art on campus? Thanks to a map feature that highlights all public art and provides a brief description of the artist and the work, people can create their own walking tour. Even better, website visitors can access floor plans, find out how long it takes to walk to another part of campus and identify accessible routes within buildings.
Stanford's map, however, isn't perfect. Currently, the search function only provides information about buildings, whereas the University of South Carolina's search bar is far more robust. Type in "vegetarian food", "coffee", or "study space" and get a list of relevant options and where to find them on campus. Offering this type of capability enables students and visitors to customize their web experience and may even inspire a university to add new map features.
Information That Connects Majors to Careers
Sure, you like English literature, but how will taking deep dives into the works of Shakespeare, Baldwin, and Garcia Marquez help you land your first job? Visit a university department website, and you'll likely see phrases that sound great in academia—critical thinking, creativity, and communication skills—but don't offer any concrete details about career opportunities.
That is why we like UC Berkeley's Career Center website. The site lacks good web design but makes up for it by providing comprehensive resources. A link to the third-party site "What Can I Do with This Major?" outlines a list of potential careers and strategies for landing those jobs. Also, UC Berkeley's "First Destination Survey" provides a realistic look at professional life after college. Plug in a graduation year and major, and users can access salary data, employers, job titles, and where alumni are going to graduate school.
Raritan Valley Community College offers a different, but still highly effective, approach to career resources. It capitalizes on the idea of guided pathways. A popular term among community colleges, guided pathways outline the journey from student, to graduate, to career professional. On Raritan Valley's site, students can learn about different fields, the various majors within those fields, and the type of careers they are eligible for. They can also access a year-by-year guide to the classes they will need to take and find out whether their associate's degree could lead straight to employment or if they would need to continue their education at a 4-year university. Having searched dozens of career websites, we know that making this type of information digestible to students is a challenge. Raritan Valley does a great job of categorizing content, adding student testimonials, and using images and icons to create a visually appealing user experience.
Language Translations
More than 25% of children living in the United States are Latino. And, before the pandemic, more than 1 million international students attended a U.S. college. In 2018-19 alone, universities received $15 billion in tuition payments from Chinese families, according to the Pew Research Center. Yet, search college websites and you'll find that all the content is in English, even web pages that are dedicated to international students.
Recognizing that this is an unmet need, colleges and universities encourage families to use web-based tools that offer word-for-word translations. The algorithms for these translation services aren't sophisticated enough to capture idioms and double meanings of words and can cause even more confusion for families.
A few 2-year and 4-year schools have noted the change in student demographics and are making it easier for non-English speaking parents to support their children, access tuition rates, and learn about the financial aid process. For example, Washington State University and Linn-Benton Community College in Oregon have created Spanish-language options while the University of Wisconsin-Madison's parents' page is available in Mandarin, Spanish, and English. WSU even noted a decrease in telephone calls to the financial aid office once the Spanish-language page was published. Not only do language translation web features help drive enrollment, but it also enables schools to achieve their goals for diversity, equity, and inclusion.