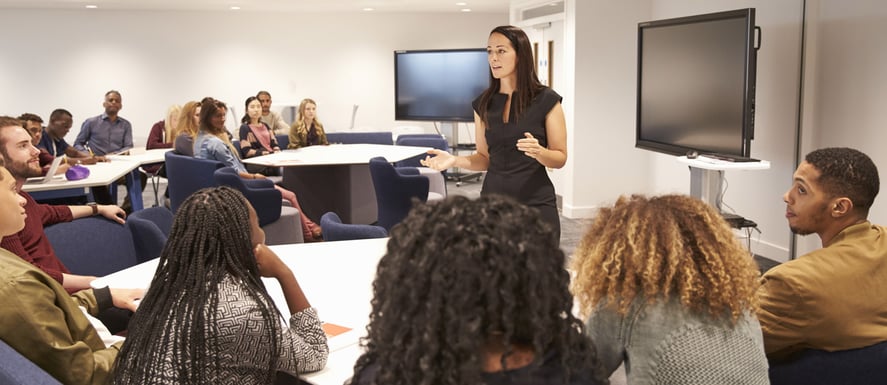 Teaching is a complex process, whether it's adult learners within higher education, professionals in corporate training environments, or youths in K-12 schools. It involves committed faculty, instructional designers, learning experience designers, content developers, strategists, video producers, educational technologists, and more. Let's start with a brief introduction to design thinking and then explore the different types of design used throughout higher education to create transformational learning experiences.
---
What is design thinking for higher education?
IDEO defines design thinking as "a process for creative problem solving," that combines "what's desirable from a human point of view with what is technologically feasible and economically viable."

Or, as IDEO's Executive Chair, Tim Brown synthesizes, "Design thinking is a human-centered approach to innovation that draws from the designer's toolkit to integrate the needs of people, the possibilities of technology, and the requirements for business success."

Design thinking isn't a straight line; it's a cycle of inspiration, synthesis, ideation/experimentation, and implementation. If you're more linearly-minded, the Stanford Design School provides a 5-stage methodology:
Empathize
Define
Ideate
Prototype
Test

The design thinking process is complementary to the instructional design process known as ADDIE:
Analysis
Design
Development
Implementation
Evaluation
Design Thinking Provides Solutions
Once students' needs and challenges have been recognized, it's time to generate ideas to help them out.

For example, creating a self-assessment as part of student recruitment marketing campaign helps professionals understand their leadership baseline, and then marketing technology like a Customer Relationship Manager (CRM) nurtures them with leadership development resources, ultimately encouraging them to explore a leadership development degree program. In this way, design thinking makes it easier for people to accomplish goals.
---
Types of Higher Education Design
Human-Centered Design
Human-centered design aims to understand prospective students' needs, motivations, and challenges. It requires designers to know who they are and get into their brain-space to create something tailored specifically for them. A humanistic approach results in learning experiences that are easier for students and adult learners to navigate.
Instructional Design
Instructional design takes the strengths and weaknesses of multiple eLearning architectures (e.g., receptive, directive, and guided discovery), learning strategies (authentic assessment, project-based learning, experiential learning, and gamification), and applies them in appropriate situations.

Put more simply, instructional design (ID) is "the systematic and reflective process of translating principles of learning and instruction into plans for instructional materials, activities, information resources, and evaluation."

An instructional designer's job is multifaceted: sometimes they will develop courses from scratch, or expertly translate what is working in a traditional, instructor-led classroom to an online setting.
Learning Experience Design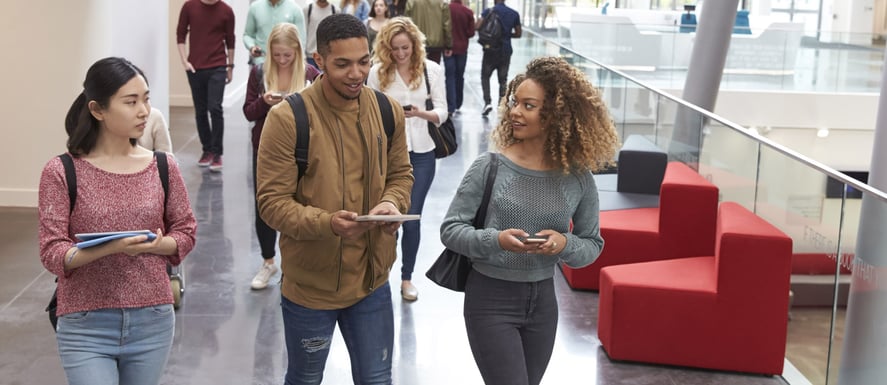 Learning experience design is different from instructional design because its primary focus is on the delivery of instructional materials, whereas ID focuses on pedagogical theory.

Students desire active and engaging educational experiences, and it is the responsibility of learning experience designers to create activities and learning materials that require students to be active participants in the learning process, deeply internalize new concepts and master new skills.
User Experience Design
Without User Experience design (UX), a website would be a cold utilitarian arrangement of words and images. UX design shapes how it is perceived and the feelings it evokes in visitors. The writing, composition, color palette, interactivity, and structure affect the emotional impact of the design.

Learning experience design (LXD) might sound a lot like digital user experience (UX) design, and that's because they are extremely similar. Both disciplines take a user-centered approach, are required to perform research, create personas, design wireframes, and develop interactive prototypes.

One difference between the LXD and UX is that user experience designers are found outside eLearning, in areas including enterprise software, mobile apps, and physical consumer products. That said, LXD and UX share the same end goal: design an accessible and pleasurable experience where transformation can take place.
Mobile-First Design
Students are on the go, and education should move with them. Designers who delight 21st-century students create convenient and reliable experiences that can be read on small screens and bite-size microlearning videos that fill gaps throughout the day.
Content Design
Of all the previous design disciplines we've covered, content design is the most straightforward. Content designers are responsible for the graphic design of course materials (e.g., presentations, handouts) and marketing materials like brochures, ad creative, and student recruitment marketing content.

Content designers work with faculty members and instructional designers to create digital assets that are necessary for completing each learning objective and repurpose content to attract students through inbound marketing.

Consistent higher education branding across first-touch marketing content and course materials evokes positive feelings in students, including trust and familiarity, adds value, and heightens the overall learning experience.
Inbound Marketing Content Design
Today's 18 to 34-year-olds strongly oppose paid advertisements, which requires higher education design agencies to create inbound marketing content like blogs and videos to attract and recruit online students organically.

Need help with inbound marketing? Download the 7-Step Content Marketing Checklist.
Higher Education Website Design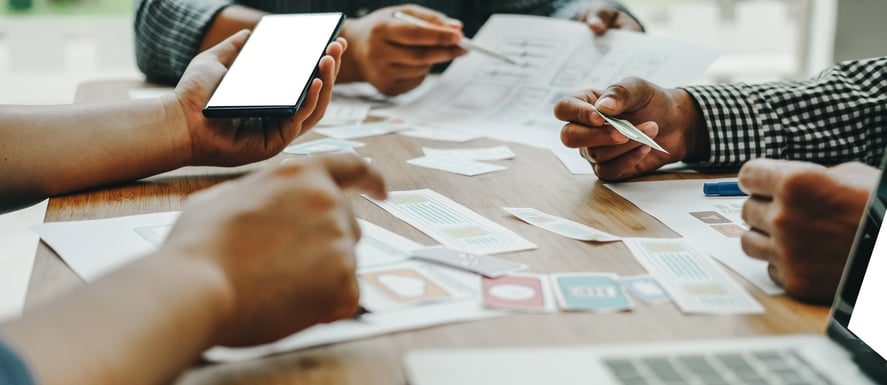 A website, like an online course, should follow a human-centered approach that prioritizes usability, reliability, convenience, and accessibility, so finding information or completing an application is easy as possible.

Clear navigation, a logical information hierarchy, and organized layout are all web design best practices that a higher education design firm must integrate into a school's website.
Higher Education Website Development
A website's purpose is to create emotional connections through brand storytelling, communicate value, provide resources, and motivate visitors to take action while embodying the school's spirit.

Universities typically have many colleges and programs within the larger university setting that necessitate uniquely branded websites. The USC Sol Price School of Public Policy's Executive Master of Leadership degree and the Kaufman School of Dance websites were developed to express their distinct voice and offerings while maintaining the integrity of the University of Southern California brand.

Beyond colleges and programs within a larger university campus, there are university-wide initiatives that benefit from sub-brands and websites such as USC's Arts in Action Initiative or the Visions and Voices Initiative.


Print Design for Colleges and Universities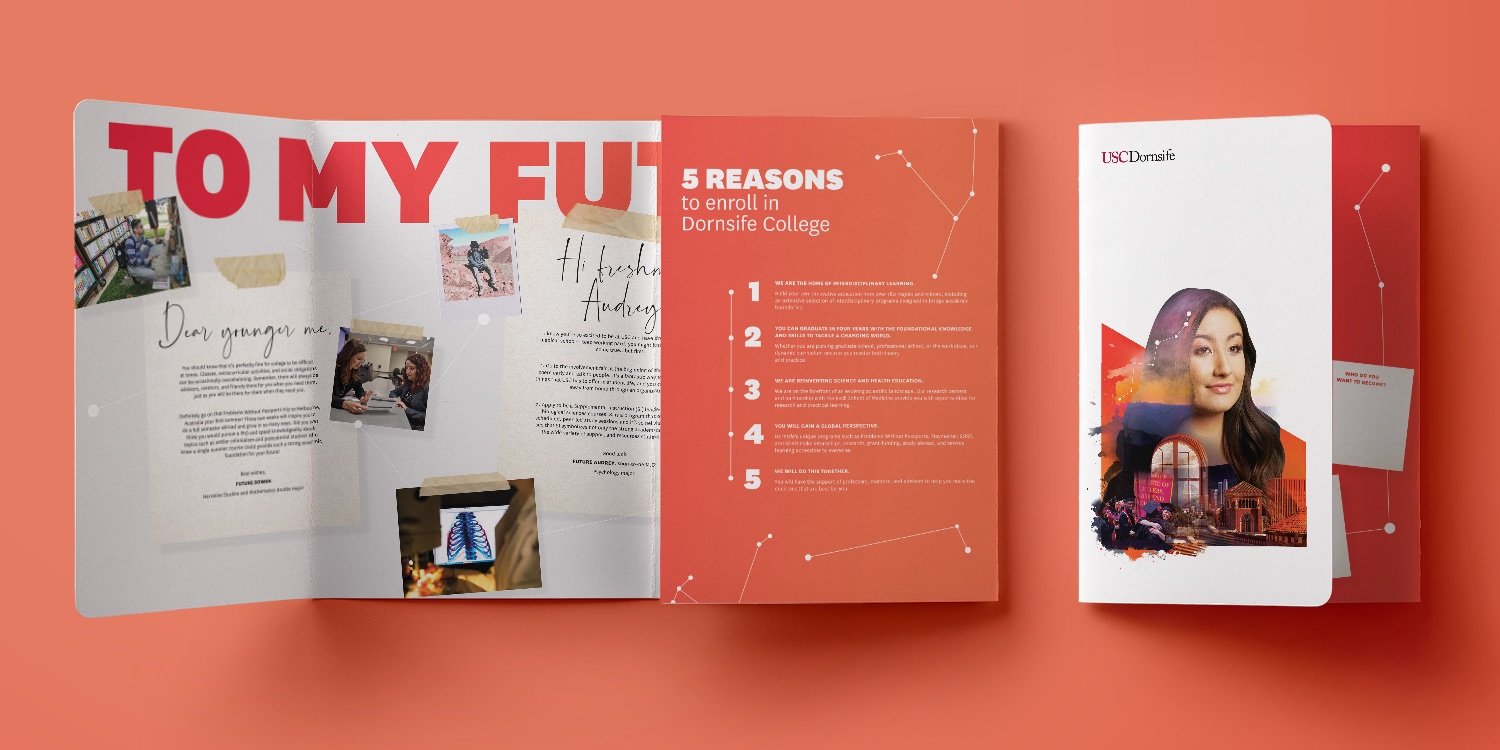 Higher education design touches marketing collateral too: brochures, direct mail letters, course catalogs, promotional items, and other printed collateral are integral components of the academic experience.

Print is a tactile experience, which makes design choices like cardstock, texture, and embossment affect how print collateral is experienced and remembered. Is your brand refined and matte or shiny and sleek?
Promotional Design
Print design can also be used to delight students. Sending a personalized birthday card to graduate students, a commemorative mug to recently graduated alumni, or a small token of appreciation during the holidays like a branded magnet can strengthen student's personal relationships with your school.
---
Choosing a Higher Education Design Agency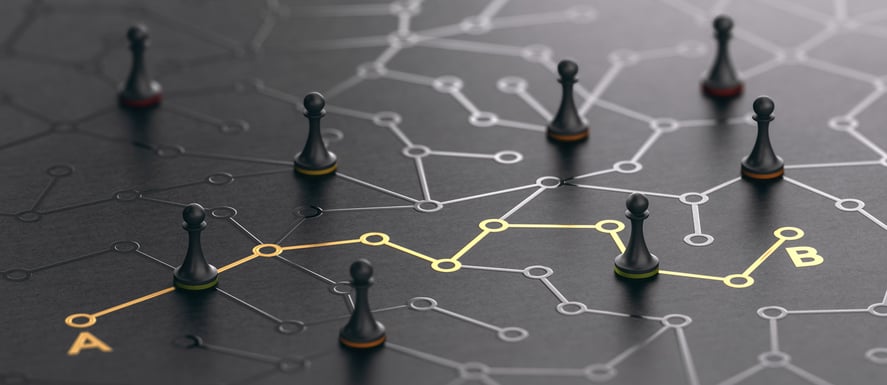 Higher education design isn't a singular discipline. Schools should aim to hire a design firm that follows higher education design best practices and are savvy enough to design marketing collateral, instruction, learning experiences, websites, and content while honoring the legacy of the school's branding.


Seven Factors to Consider
When looking to hire a higher education design firm, schools should evaluate the following areas of a company:
Do they design meaningful content?
Do they have a current and impressive design portfolio?
Have they demonstrated the ability to deliver innovative solutions?
How do they like to work with clients? Are they flexible enough to meet your needs?
Who is on their team? Do they cover all the necessary areas of expertise?
Have they worked with customers of a similar caliber and pedigree as you?
What reviews have people written across websites like Google, Clutch, and partnership portals?

A holistic understanding of higher education design and the expertise agencies need to possess, will empower senior leaders and administrators to create work that students and faculty love.
---
See if UNINCORPORATED is the right Higher Education Design Company for your next project.