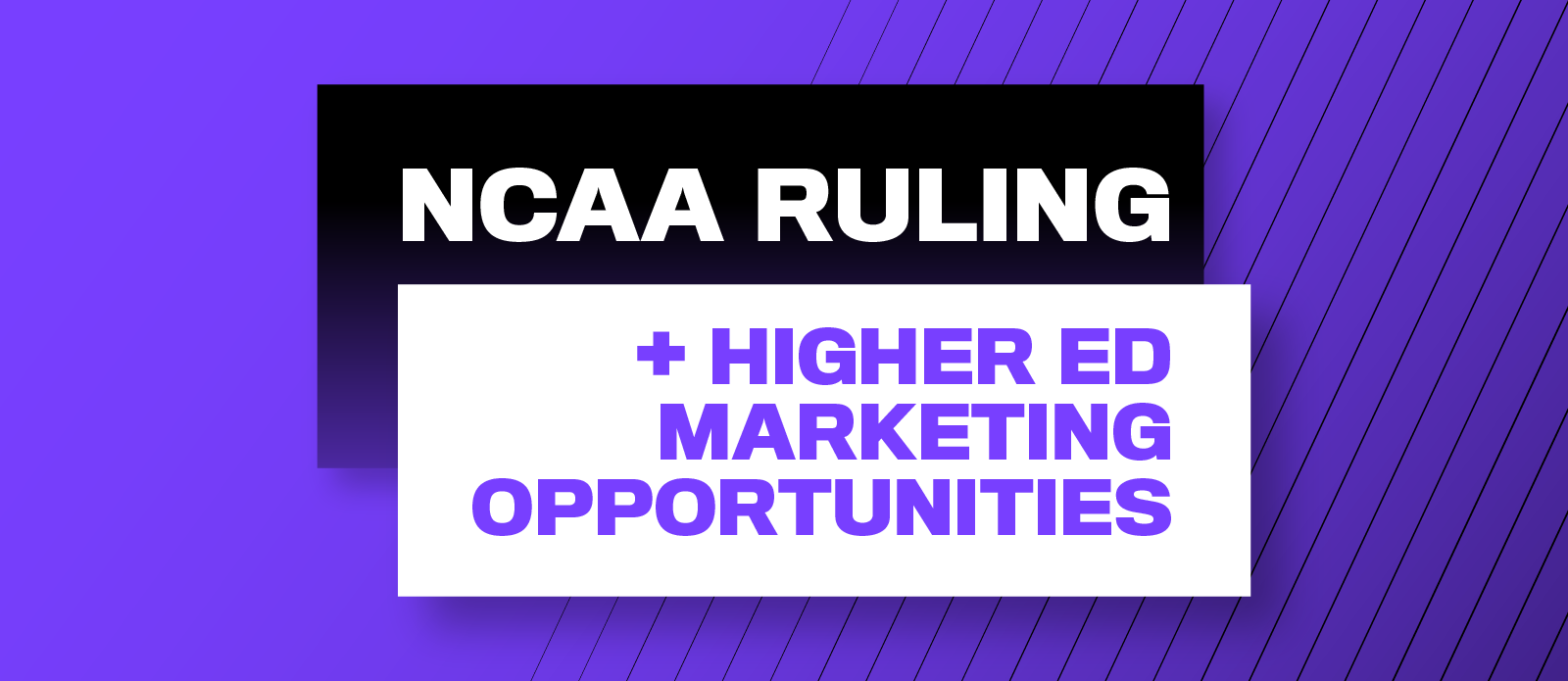 The recent Name, Image and Likeness (NIL) ruling from the NCAA freeing up student-athletes to capitalize on the potential value of their personal brand without sacrificing their college eligibility offers tremendous opportunities for forward-thinking colleges and universities to showcase their core values and academic prestige in ways that might not be immediately apparent.
Sports Drives Enrollment
Like it or not, those of us engaged in marketing the value of our higher education clients are well aware that an institution's sports teams can be an important factor in the decision-making processes of prospective students. It cannot be denied that the prominence of a university's sports programs – particularly football and basketball – weigh heavily in the choice many students make in choosing where they will attend college. Promoting NCAA sports has long been a viable student recruitment strategy.
But the opportunities don't end there, or at least they don't have to anymore. While much of the focus of the NCAA's NIL ruling has been on the endorsement deals signed by high profile, individual athletes in major, revenue-generating collegiate sports programs, opportunities exist to leverage the visibility of student-athletes participating in so-called "minor" college sports programs as well.
Stay Amateur or Go Pro?
For Olympic-class amateur athletes, it isn't always that simple.
Take the journey of Sunisa Lee. Following her all-around gymnastics gold medal victory at the Tokyo Olympics, Lee enrolled in classes at Auburn University this week. Having committed to attend Auburn's Harbert College of Business well before she even qualified for the U.S. Olympic team, the recent NCAA NIL ruling made the decision to follow through on her life-long academic dream much easier than it would have been in the past.
To be clear, there is no such thing as "professional gymnastics." The only financial return-on-investment a world-class women's gymnastics champion could expect from her years of dedication to her sport was a post-Olympic exhibition tour, where she and her fellow medal winners would be paid a fee in return for participating in corporate-sponsored events. These tours and other endorsement deals disqualified these athletes from competing in college. Their competitive career as an amateur, from the NCAA's perspective, was over. Many other world-class amateur athletes in other sports have suffered this same fate.
Like what you're reading? Sign up for the Higher Education News Brief, and receive the top stories from across the landscape of Higher Education every Monday, Wednesday, and Friday.

Putting the "Student" Back into "Student-Athlete"
But what if a student athlete's name, image, and likeness could be appreciated and marketed not only for their athletic prominence, but also for their academic commitment and success?
Lee's decision to pursue a marketing degree from a top-tier college of business at a major SEC university is telling. As Lee progresses through her business marketing curriculum, imagine the opportunities for Auburn to align her athletic prowess with her equally impressive pursuit of academic and professional success in the post-athletic field of her choice.
Who better to share her hands-on experience and acquired expertise in marketing her name, image, and likeness to prospective students, alumni, donors, and business partners than she could? Lee could be a strong academics-focused draw for prospective students seeking a degree in marketing as well as a source of fundraising and corporate partnerships for the school, should Auburn decide to take advantage of these opportunities.
In addition, Lee's desire to participate in the "full college experience" Auburn offers has been widely reported in the many interviews she's participated in across major media outlets nationwide. She's repeatedly promoted the appeal of the "Auburn Family" – one of Auburn's core values and a prominent platform for their student recruitment strategy – and how the concept of family aligns with the values of her Hmong community in Milwaukee, Wisconsin. This is also a compelling message that could help drive the Auburn brand.
What If? – Case in Point
On the other end of the spectrum, consider swimmer Katie Ledecky, who won two gold medals and two silver medals at the Tokyo Olympics, making her the most decorated U.S. female athlete for a second straight Summer Olympics. Ledecky turned pro in 2018 after two years at Stanford, where she won eight NCAA titles and helped lead her alma mater to back-to-back NCAA team championships. She finished her degree in the fall of 2020 after taking advantage of the postponement of the 2020 Olympics to fulfill her academic graduation requirements online.
Among the endorsement deals she signed after turning pro was a primary education-oriented initiative sponsored by Panasonic encouraging middle school children in major markets across the country to pursue careers in science, technology, engineering, and mathematics. Any college with a STEM curriculum would love to be directly associated with this kind of program, especially a technology education powerhouse in Silicon Valley. But Stanford wasn't a party to this deal, and likely benefitted only peripherally.
But what if the newly relaxed NIL rules were in effect back in 2018? One can imagine a scenario in which Ledecky would have stayed at Stanford had she been able to enjoy the financial benefits of her athletic accomplishments without sacrificing her ability to compete at the collegiate level. The Panasonic deal Ledecky signed might have been different if she were still an enrolled student and allowed to continue competing for Stanford. Perhaps a win-win-win sponsorship agreement could have been structured promoting Stanford's academic profile, its swimming team, and Ledecky herself. Would such a sponsorship deal work for Panasonic as well?
We can't know for sure, but in her post-Olympic interviews, Ledecky openly credits her training at Stanford as critical to her ongoing success. In a recent People Magazine interview, Ledecky remarked, "I've had this amazing experience at a school I really love and a great place with great people. I'm really thankful for that kind of support." These are strong messages coming from a Stanford alum, but we would argue that this same messaging would be even more powerful coming from an enrolled student.
More important for higher education marketers, a broader, more collaborative student-athlete endorsement strategy involving not only Ledecky, but the university itself, makes a strong case for the value innovative NIL endorsement relationships can deliver for higher education institutions.
Living in the Wild, Wild West
We are still in the early days, and opportunities to leverage the potential of the new NIL rules are bound to generate a wide range of approaches that extend all over the map.
Some will succeed; some will fail. What we do know is that this new NIL landscape represents a host of extremely promising opportunities for student-athletes, the institutions they attend, and corporate sponsors interested in leveraging their ties to both athletics and academics.
After all, corporations need both customers and a steady influx of talented employees to fuel their success – from sales and marketing professionals to engineers and financial managers. Savvy companies will consider the value of building endorsement relationships that address both of these needs.
Forward-thinking higher education marketers should do the same. We can help.
---
Let's Work Together
We understand how branding, marketing, and instructional course design need to work together. Contact us today to find out how we can put you on the track to developing a more effective, longer-term course development and marketing strategy to secure the student enrollment you need for next year and beyond.