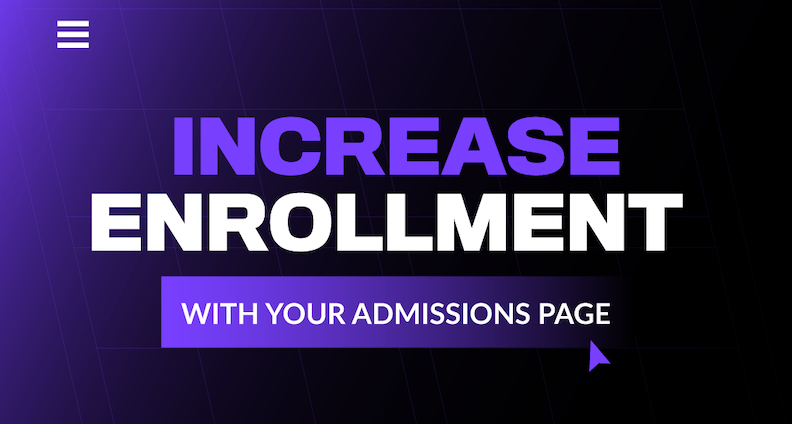 The college admissions frenzy of the last few decades has favored higher ed. Students were eager to get into the "right," "best," and "most prestigious" schools. How many considered whether those universities were even a good fit for them?

That's about to change.

College enrollment has hit a 20-year low. Declining birth rates beginning in the Great Recession have not let up. Did we mention that COVID-19 made it even worse? And some colleges may close forever.
Let's be honest. Higher ed marketers know that strategic plans go through many levels of reviews, and the focus tends to be on the approval of leadership rather than prospective students themselves.
It is time for colleges and universities to find more creative ways to increase college enrollment. The first step is to put the customers and the user experience first, especially on the college admissions websites. At UNINCORPORATED, our web development projects have transformed the relationship between schools and the students it wants to recruit. The result: enrollment increases.
Like what you're reading? Sign up for the Higher Education News Brief, and receive the top stories from across the landscape of Higher Education every Monday, Wednesday, and Friday.
Curious how your undergraduate admissions pages stack up? Please take a peek at how we examine UX through engagement, storytelling, design, and accessibility.
Engagement
Your college's brand, reputation, and marketing materials are driving users to the school's website. Great! Now, the challenge is to keep them engaged by providing them relevant content and resources.
The University of Illinois at Urbana-Champaign's college admissions pages achieves those goals by offering downloadable brochures on how to pay and prepare for college. The content is practical and does not oversell UI. To get the materials, users provide their email addresses, and UI is quick to follow up with more emails and begin online engagement early in the college admissions process.
UI doesn't stop there. The university has a student population of 33,000 students and understands today's students expect personalization. Everything from their Netflix queue to their Spotify song suggestions, to their TikTok feed, is curated specifically for them. Yet, when it is time to choose a college, they are expected to be satisfied with a one-size-fits-all college admissions page and virtual tours.
On the UI website, users can pick their student status — such as transfer, undocumented, or non-credit— and find specific information for their situation. Also, the school offers several college tours based on their personal interests. Cyclists can follow a college dean on a bike to see a different perspective of campus. Future journalists can tour the student paper's newsroom. And art students can get a glimpse of the facilities available to them.

Storytelling
Facts alone are not enough to drive engagement. Choosing a college is also an emotional decision, and applicants want to imagine themselves at the school. They want to see how their college experience might look. This is why storytelling is so important.
With a 5.8% acceptance rate, Princeton University is already among the most selective schools in the country. Yet, it still has to distinguish itself among other Ivy Leagues and does so through storytelling on its college admissions website.
The New Jersey university singles out unique undergraduate experiences — senior thesis, precept system, bridge program — and offers valuable content through text and video, all from students' perspectives. Also, prospective college students can take a deep dive into areas that matter most to them, including research, student life, and eating clubs (it's actually a thing at Princeton) through the school's robust blog pages and comprehensive tagging system. While Princeton's web navigation needs to be improved, patient online users will be rewarded with great content.

Design
When prospective college students are in full-on college search mode, they are visiting dozens of websites. And, after a while, these savvy young adults will notice some trends.
Nearly every website has an obligatory banner image or video showcasing campus or happy students. Scroll down the page some more, and you'll see some box-shaped widgets that include application deadlines, financial aid calculators, and lists of bragging points.
It's all the same! There is, however, a way to stand out from the competition. Dig deep into your school's brand, mission, and values. What do they say about your school and how can they be visually expressed?
The undergraduate admissions pages for Johns Hopkins University (JHU) is a great example of uniting principles with good design. JHU is the first research institution in the United States, and the school prides itself on its continued breakthroughs in space, health, and technology.
With only an 11.2% acceptance rate, JHU seeks driven students who have new ideas and believe "whatever can be imagined, can be achieved." To represent itself and future students, JHU created banner images on its college admissions landing pages that feature movement, vibrant colors, and subtle accents to stand out.
On the Discover JHU landing page, for instance, geometric shapes immediately begin to form, and the viewer is drawn to the main image of a student. Scroll down the page, and visitors will see more scientific accents: circles inspired by atoms, wavy lines reminiscent of topological maps, and spheres that resemble Earth. In a unique, yet understated way, the Baltimore university has shown that creative students, both in sciences and humanities, are welcome at JHU.

Accessibility
Nearly 20 percent of college students in the 2015-16 school year reported having a disability, according to the National Center for Education Statistics. Many colleges and universities fail to make their websites fully accessible to them. In 2019 alone, there were 2,256 lawsuits filed for violations of website accessibility.
Ensuring the people living with disabilities can access web content is not only the right thing to do, it's the law. In 1998, lawmakers added an amendment (known as Section 508) to the Rehabilitation Act of 1973. It mandated that federal agencies and any organization that does business with them must have accessible information technology.
The University of Iowa received a 97 rating on Silktide for its web accessibility. Before it earned that ranking, the school struggled like many others. According to a 2006 report, an ADA task force found that website updates were decentralized among faculty, staff, and students who knew little about 508 compliance. Well-meaning web developers on campus also lacked the tools and training to create accessible web templates.
The task force helped establish an IT accessibility office and set in motion the website Iowa has today that includes appropriate color contrasts, alt text for visual elements, and keyboard navigation.
Engagement, storytelling, design, and accessibility can encourage or deter prospective students, current students, faculty, staff, and alum from the university's desired outcome or primary call-to-action. Excelling in each of the four categories opens the door to creating an exceptional online, user-friendly experience.


This article was co-authored by Marisa Demers.
---