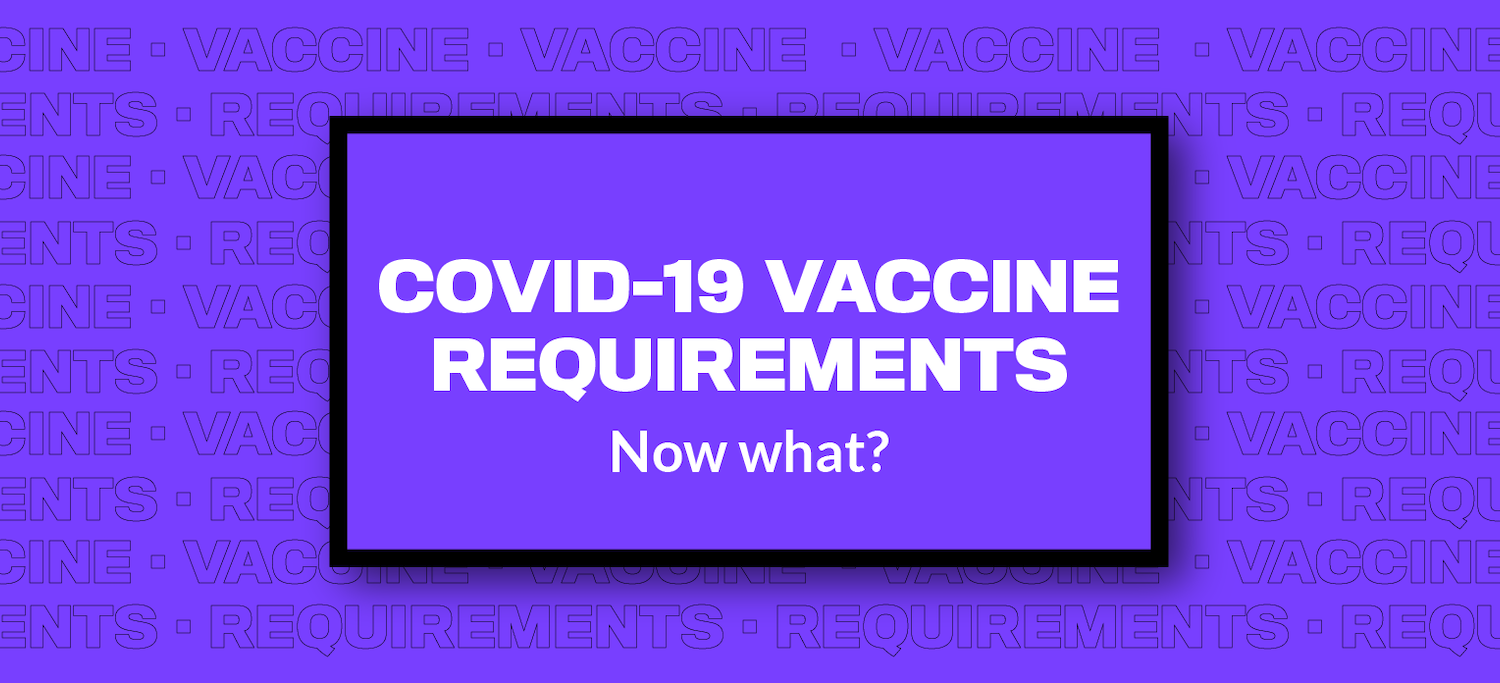 The majority of colleges and universities plan a return to in-person instruction and a robust on-campus experience this fall. Over the past few weeks, the question of whether to require students to be vaccinated for COVID-19 before enrolling has dominated conversations across the higher education landscape.

We don't see the debate over this issue dying down any time soon. The stakes are high regardless of where a given institution lands – and there are strong arguments on each side. While it may seem that the hard work is over once an institution has made its decision, we couldn't disagree more.
Like what you're reading? Sign up for the Higher Education News Brief, and receive the top stories from across the landscape of Higher Education every Monday, Wednesday, and Friday.
The Numbers are Daunting
Whichever way your college or university has decided to go, the implications of that decision are wide and varied, impacting the current, often extended, student commitment period. With 13% of U.S. adults reporting that they will "definitely not" get the vaccine according to the Kaiser Family Foundation COVID-19 Vaccine Monitor – and another 17% taking a "wait and see" approach – the decisions of almost a third of accepted students could be at stake.

Bottom line? How recruitment, admissions, and enrollment professionals position their school's respective vaccine mandates, or absence thereof, to both new and returning students and their parents will significantly affect their enrollment numbers when all is said and done.

Communication is Paramount
Communicate, communicate, and then communicate some more. We recognize the need to effectively message the reasons behind a given decision and do so early, and often is the key to minimizing the potential damage to reputation, brand, and bottom-line results. Our experience tells us that the following best practices will be instrumental to success.

Promote vs. Defend
A considerable amount of scientific research, listening to stakeholders, and balancing alternatives and impacts went into your institution's ultimate decision to require this particular vaccination or not. Don't be afraid to craft a compelling story that points to these fundamental elements of sound decision-making. Promote rather than defend those efforts.

Drive Core Values
Research tells us that the strongest appeals are those that build upon the fundamental core values that make your institution what it is, which is why students chose your school to begin with. These should be front and center in developing your communications strategies and crafting key messaging around your decision. Remind students and parents who you are – who you've always been – and show them how your decisions and the steps you are taking to support them are based on those core values.

Messaging is Key – as Always
It's time to revisit your key messaging platform. It's unlikely it includes consideration of the "require vaccinations or not" scenario. While all colleges have had to respond to the pandemic from a testing perspective, this is a different challenge.

The COVID-19 vaccine decision involves significant personal, religious, and health-related circumstances and hard-held positions that have little to do with the educational factors your previous marketing campaigns have typically addressed. Broaden the message assessment and development process, including outside perspectives typically not included. These objective viewpoints can expand thinking beyond the norm.

Leverage All Your Assets
Some messages supporting decisions made by university leadership and top administrators are delivered more effectively by other well-respected voices – in this case, those not deciding whether or not to require vaccinations. Here's where the backing of faculty, deans, and trusted student-oriented administrators at specific colleges or departments can be powerful.

Prominent faculty in medical, public health, and human sciences disciplines can be enlisted to offer their expert views on physical safety and mental health, while their counterparts in ethics, political science, and law could speak to personal freedom and governance issues. In any event, aligning and enlisting faculty and staff is a must.

Universities can take a step further to include student voices – voices from the people that are directly impacted by this key decision. Students have often been left waiting on the sidelines in the midst of important discussions on school policies. Stakeholders have the unique opportunity to consult students and receive their support. These influential voices may derive from student-led groups concerned with health and safety, graduate students researching similar topics, undergraduate students in related studies, student government representatives, and any other students wanting to weigh in. This past year, we have seen a dramatic increase in student involvement in social, ethical, and political movements. Universities can further their impact.

Online Courses Remain Critical
You've likely invested a considerable amount of money and other resources over the past year to develop and roll out online courses and remote instruction processes and procedures with the quality of those programs and the success of those efforts building over time. That investment will still generate value in the future.

Online programs provide viable alternatives for those qualifying for vaccine mandate exemptions as well as for those vaccinated students who don't feel comfortable mixing with non-vaccinated students. Pointing to these expanded alternatives and continuing to increase their quality and availability can instill a comfort level that can drive or confirm decisions yet to be made.

Respect All Concerns
Finally, recognize that vaccination is a very personal decision for those being vaccinated and those who choose not to be. It can be far too easy to adopt a polarizing posture in defense of your school's decision. Resist that temptation at every turn. Avoid the trap of turning the personal into the political. By respecting the decisions of others and demonstrating empathy, your university's brand can uphold a positive image – one that supports safety as well as equity, diversity, and inclusion.
---
Let's Work Together
Want to design and implement a robust campaign using your university's institutional Higher Education Emergency Relief funding? Our team of branding, marketing, and instructional course design professionals will add capacity to your team to ensure your student and faculty body can realize their full potential.